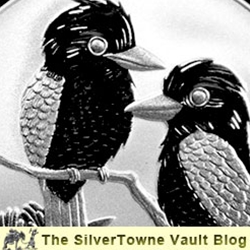 2013 Kookaburra Coins
Kookaburras are found in Australia and New Guinea and belong to the Tree Kingfishers family of birds. Kookaburra Silver Coins are a signature product from the Perth Mint of Australia and are one of the most widely-collected modern world coins across the globe. The large birds are best known for their unique calls, which sound like the echoing laughter of humans. The bullion coins are popular with collectors for their high-quality annually-updated designs minted in 99.9% pure silver.
Collectors can now add the 2013 Silver Kookaburra to their collection. The reverse of the newest design in the series features two young kookaburras perched on a tree branch above some flowering foliage. Inscribed around the outside of this image are AUSTRALIAN KOOKABURRA and 2013 1oz 999 SILVER. A "P" mint mark for the Perth Mint is also included on the back-side of the coin. The obverse of the coin is centered around an effigy of Her Majesty Queen Elizabeth II, as is the case with other Kookaburra coins and all legal tender coinage form Australia. Inscribed on the front of the coin are ELIZABETH II, AUSTRALIA and 1 DOLLAR.
Add the 2013 version of the popular Kookaburra Silver Coin to your collection today!