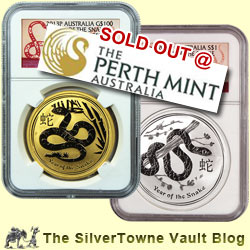 The Year of the Snake doesn't begin until February 10, 2013, but the 1oz silver and gold bullion coins from the popular Australian Lunar Series II have already sold out at The Perth Mint.
Here is an excerpt from the official notice from The Perth Mint:

"Gold and silver 1oz bullion coins from the Australian Lunar – 2013 Year of the Snake Coin Series are officially sold out at The Perth Mint. The sell out of the full mintages of 300,000 pure silver 1oz coins and 30,000 pure gold 1oz coins was achieved in just two months, ranking this release as one of the fastest selling behind the phenomenally successful Year of Dragon coins in 2012."
Every modern world coin collection should include Year of the Snake coins. They also make great gifts (or memorials) for people born in any year "ruled" by the Chinese lunar snake. In addition to 2013, other "Years of the Snake" include 1905, 1917, 1929, 1941, 1953, 1965, 1977, 1989 and 2001.
Sold Out at The Perth Mint – but still available at SilverTowne – get yours before they're gone!