Crux Constellation Coin
The Royal Australian Mint has released its first dome-shaped coin, acknowledging the significance of the Crux constellation. This beautiful, innovative coin sports a dome-shaped design featuring a color print of the southern sky spanning the coins surface like a celestial sphere. The rim surrounding the concaved surface mimics a compass, adding to the astronomical feel of the design. An effigy of Her Majesty Queen Elizabeth II appears on the convex obverse of the coin.
The Crux (Latin for cross) constellation is more commonly known as the Southern Cross, and its representative image appears on the flags of Australia, Brazil, New Zealand, Papua New Guinea and Samoa. For centuries this constellation has served as a navigational beacon for sailors and is one of the easiest to identify in the night sky.
Crux is the smallest of 88 modern day constellations, but is easily visible from the southern hemisphere at almost any time of the year. You can also catch a glimpse of it in the northern hemisphere for a few hours every night during winter and spring months.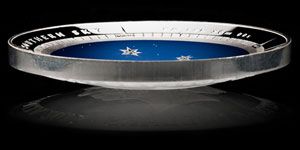 The Crux constellation is made up of four main bright stars and one fainter star. The five stars that make up the constellation are summarized on the coin's certificate of authenticity as follows:
- Alpha Crux, also known as Acrux, is a multiple star system composed of three stars. It is classified as a Blue Giant binary star and is fourteen times the size of our sun. It forms the southernmost point in the cross.

- Beta Crux, also known as Mimosa, is also classified as a Blue Giant star and is the second brightest star in the constellation with an estimated age of 10 million years. It forms the easternmost point of the cross.

- Gamma Crux, also known as Gacrux, is a double star system and is classified as a Red Giant star. It forms the northernmost point of the cross.

- Delta Crux is classified as a sub giant star just starting to enter the Red Giant phase. It forms the westernmost point of the cross.

- The faint fifth star, Epsilon Crux, is classified as an Orange Giant, and is located about 230 light years away.
The .999 fine silver 1oz coin has a $5 face value and a limited mintage of 10,000. The dome-shaped design offers a unique representation of the Crux constellation, resulting in a truly gorgeous coin – one that you would be proud to own!