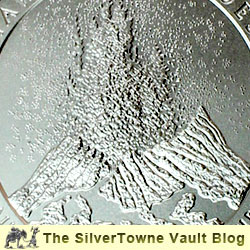 2012 Hawaii Volcanoes 5 oz Silver Coin
The latest release in the US Mint's 2012 P America the Beautiful Five Ounce Silver Uncirculated Coin Series features Hawaii Volcanoes National Park. Hawai'i Volcanoes National Park is located on the island of Hawaii in the state of, you guessed it, Hawaii. Established in 1916, the 323,431 acre park encompasses two active volcanoes – one of the world's most active volcanoes, Kilauea, and the world's most massive volcano, Mauna Loa. Climates within the park boundaries range from lush tropical rain forests to dry, barren deserts. Visitors can enjoy unique hiking and camping areas, museums, volcano observation, as well as viewing of craters and lava flows.
The reverse design of the coin depicts an eruption on the east rift of Kilauea Volcano. Inscribed on the perimeter around the design is HAWAI'I VOLCANOES, HAWAII, E PLURIBUS UNUM and 2012. The coin measures an impressive three-inches in diameter, weighs 5 troy ounces, and contains .999 fine silver. Like all 5oz ATB collector versions before it, the 14th release in the series is produced with an uncirculated finish at the Philadelphia US Mint and therefore display a "P" mint mark. Furthermore, the edge of each coin is incused with the coin's fineness and weight.
Add 2012 P Volcanoes 5oz Silver Coins To Your Collection.