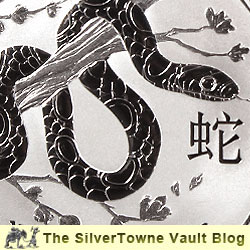 Year of the Snake
The "Year of the Snake" officially kicks off on February 10, 2013, but the collectible bullion coins from the Perth Mint Lunar Series II celebrating the snake, the sixth animal in the 12-year cycle of the Chinese zodiac, are available for purchase now and are proving to be as popular as the previous coins in the series.
The reverse of each coin depicts a hissing snake curled around a tree branch hanging in mid-air. The Chinese character for 'snake' and the inscription 'Year of the Snake' also appear on the reverse, along with The Perth Mint's traditional 'P' mintmark. The obverse of the coins features an effigy of Her Majesty Queen Elizabeth II.
Year of the Snake coins are exceptional choices for silver and gold bullion collectors looking to add something special to their collection, and they also make great gifts (or memorials) for people born in any year "ruled" by the Chinese lunar snake (including 1905, 1917, 1929, 1941, 1953, 1965, 1977, 1989, 2001 and 2013).
The Year of the Snake coins are produced in many sizes, including half-ounce, 1oz, 2oz, 5oz, 10oz and kilo silver and 1oz gold. You can also choose from certified and non-certified coins. Shop the large selection of 2013 Snake Silver & Gold Coins now available from SilverTowne!