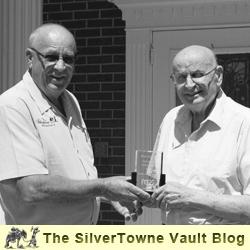 Leon Hendrickson
Leon Hendrickson, founder of SilverTowne, has made many friends over the years – and in turn has earned many numismatic-related awards. His most recent accomplishment comes from being honored with an induction into the PCGS CoinFacts™ Coin Dealer Hall of Fame in early August 2012 during the American Numismatic Association (ANA) World's Fair of Money. Leon, along with two other 2012 honorees (David Hall and Abe Kosoff), were selected by a committee of their peers, including the three living Hall of Fame inductees from previous years.
Leon started dealing in coins in 1949 when he began buying and selling coins that he kept in a cigar box under the counter at The Rainbow Restaurant, a Winchester, Indiana diner where he worked at the time. He continued to grow his coin business and became a full-time dealer in 1967. According to a PCGS press release about the 2012 Hall of Fame induction ceremony "Since then he (Leon) has perhaps sold more coins by dollar volume than any dealer in history, including items from the legendary Continental Illinois Bank hoard of Morgan dollars and the LaVere Redfield silver dollars hoard in Nevada."
According to PCGS President Don Willis in the same press release, the Professional Coin Grading Service established the PCGS CoinFacts™ Coin Dealer Hall of Fame in 2010 to "recognize outstanding dealers, past and present, who have made the most significant contributions to numismatics." You can read about all of the Hall of Fame members at the PCGS website. You can also learn even more about Leon at the SilverTowne website. For an in-depth history of both Leon and SilverTowne, pick up a copy of Rare Coins, Rare People by Jan Chalfant.
Everyone at SilverTowne congratulates Leon on his PCGC CoinFacts™ Coin Dealer Hall of Fame award, as well as all of his lifelong achievements. In addition to being an active member of more than 30 numismatic organizations, Leon is a former president of the Professional Numismatics Guild (PNG), Central States Numismatic Society (CSNS) and Indiana State Numismatic Association (ISNA); a life member in the ANA (American Numismatics Association) #LM692 and PNG (Professional Numismatists Guild) #170; and a proud recipient of many awards, including the following:

2012 – Coin Dealer Hall of Fame Award, PCGS CoinFacts
2008 – Numismatist of the Year, American Numismatic Association
2003 – Presidential Award, American Numismatic Association
2003 – Lifetime Achievement Award, Professional Numismatists Guild
1999 – Manuracturer of the Year, Economic Development Foundation
1995 – Lifetime Achievement Award, Blue Ridge Numismatic Association
1993 – Numismatic Ambassador, Numismatic News
1993 – "Just for being you" Special Tribute Award, Alabama Numismatic Association
1991 – Outstanding Member Award, Tennessee State Numismatic Society
1990 – Medal of Merit, American Numismatic Association
1989 – Man of the Year Award, National Silver Dollar Roundtable
1988 – Award of Merit, Central States Numismatic Society
1987 – Founders Award, Indiana State Numismatic Association
1982 – Citizen of the Year, Winchester Lions Club
1978 – President's Award, National Silver Dollar Roundtable