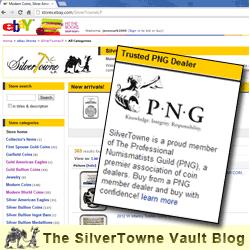 PNG Sale
This coming week will be an exciting time for coin collectors to visit eBay – the PNG End of Summer Sale event kicks off this Sunday, August 19th and runs through next Saturday, August 25th. But as a SilverTowne Vault Blog reader, you can enjoy a sneak-peek right now. We've launched our markdowns early so you don't have to wait - visit the SilverTowneLP eBay store now to see the savings. Plus, all of our eBay items currently ship free!
During the PNG End of Summer Sale, a wide variety of coins from participating PNG member dealers will be marked down to incredible prices on eBay, the world's largest online marketplace. In an effort to strengthen their commitment to buyers and sellers of coins on the auction site, eBay partners with PNG to educate and protect collectors of rare and modern coins. The spirit of this effort is reflected in PNG's slogan – Knowledge. Integrity. Responsibility.
As a coin collector, it's important to know that you are buying from someone you can trust. You can have that peace-of-mind when you buy from a PNG member dealer. As stated on the informational page on eBay, "The Professional Numismatists Guild (PNG) is a nonprofit association of the world's biggest numismatists and is committed to increasing trust and safety for coin, paper money and precious metal collectors."
Why Buy From PNG Members on eBay?

1) They have significant dealer experience and numismatic assets. Collectively, they have sold over $25B in the past year.

2) They are committed to high professional standards and adhere to a strict Code of Ethics in the buying and selling of numismatic merchandise.

3) Many of the coins they sell have been authenticated and certified by NGC, the official grading service of the PNG, or PCGS.
SilverTowne is a proud member of The Professional Numismatists Guild (PNG). We have also been doing business in the coin industry for a long time, since 1949, gaining the trust of thousands upon thousands of customers and partners along the way. Whether shopping from the vast inventory on our main website at www.silvertowne.com, or from the special selections on our eBay store (found at www.stores.ebay.com/SilverTowneLP), you can rest assured that you are not only getting a great deal, but you can also buy with complete confidence! The PNG End of Summer Sale on eBay is the perfect opportunity to add to your coin collection while shopping the SilverTowne eBay store for some great deals. Happy collecting!