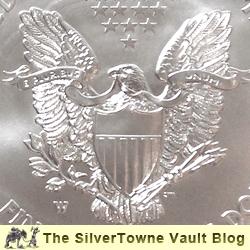 2012 ASE Burnished Coins
The United States Mint has once again released the popular Burnished, Uncirculated Silver American Eagle, featuring the "W" mint mark on the reverse of the coin. The production of the coin had been cancelled in 2009 and 2010 due to high demand for the bullion version of the Silver Eagles, but it was once again made available in 2011 – and now the 2012 version is available to add to your collection!
This coin is produced from special burnished blanks at the US Mint facility in West Point. Like all Silver American Eagles, the 2012 Uncirculated Burnished Silver Dollars contain one troy ounce of .999 pure silver and sport a reeded edge. The weight, content and purity of every Silver American Eagle is guaranteed by the United States Government. The coins feature Adolph A. Weinman's "Walking Liberty" design on the obverse, and John Mercanti's design featuring a "Heraldic Eagle with Shield, symbolizing strength and endurance" on the reverse.
Don't miss out on this exciting release – Order Your 2012 Uncirculated Burnished Silver American Eagles from SilverTowne today!