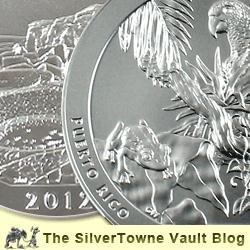 2012 El Yunque and Chaco 5 oz Silver Coins
The first two 5oz America the Beautiful Silver Collector Coins for 2012 have been released and are available to purchase. The first 2012 5oz ATB coin to be released features El Yunque National Forest, which is located in the U.S Territory of Puerto Rico. The second 5oz ATB coin released this year depicts Chaco Culture National Historical Park located in the state of New Mexico.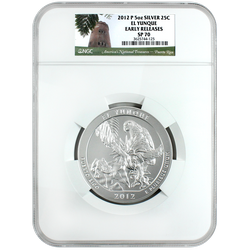 El Yunque National Forest is located near Rio Grande in Puerto Rico and is the only tropical rainforest in the United States National Forest System. The design on the reverse of the 5oz coin depicts several sights from within the rainforest, including a Coqui Tree Frog, a Puerto Rican Parrot, native plants and tropical flora.
Chaco Culture National Historical Park is located between Albuquerque and Farmington, New Mexico. The remote canyon area is designated as a United States National Historical Park, as well as a UNESCO (United Nations Educational, Scientific and Cultural Organization) World Heritage Site. The site is home to the largest collection of ancient ruins north of Mexico. The 5oz Chaco coin's r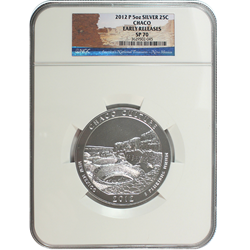 everse design features two elevated kivas (rooms used by Puebloans for religious rituals) from the Chetro Ketl Complex (an archaeological "Great House" located in Chaco Canyon), with the wall of the canyon in the background.
These gorgeous collectible America the Beautiful bullion coins measure an impressive three-inches in diameter, weigh 5 troy ounces, and contain .999 fine silver. They are produced with an uncirculated finish at the Philadelphia US Mint and therefore display a "P" mint mark. Furthermore, the edge of each coin is incused with the coin's fineness and weight. The obverse of all ATB 5oz collector coins feature the same 1932 portrait of George Washington (by John Fanagan) that appears on circulating quarters.
Add both the El Yunque and the Chaco Culture silver 5oz collector coins to your collection!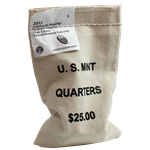 BONUS TIP: Don't miss the first Brilliant Uncirculated America the Beautiful Quarters ever minted in San Francisco. Both the El Yunque and Chaco Culture "S" mint quarters are now available in sealed bags!