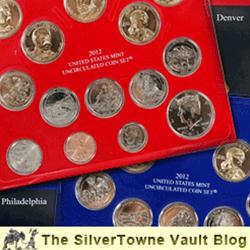 2012 US Mint Set
One of the U.S. Mint's most popular numismatic offerings of the year is now available. Every year the United States Mint Uncirculated Coin Set proves to be very popular with collectors. These U.S. Mint Sets offer coin collectors an easy way to collect every coin produced for general circulation for that year, in a pristine, uncirculated condition. The uncirculated coins are struck on a special press to produce a sharper, more detailed image than their circulating counter-parts. The coins come in original government display folders, with the coins themselves sealed in blister packs for protection.
The 2012 United States Mint Set includes 28 uncirculated coins, divided into two folders. A bright red folder contains 14 coins with a "D" mint mark, indicating they were struck at the U.S. Mint in Denver. The other folder, bright blue in color, contains 14 coins with a "P" mint mark, as these coins are struck at the U.S. Mint in Philadelphia. With the exception of the mint marks, each folder contains the same 2012-dated coins, which include:
(5) Quarters from the America the Beautiful Quarters® Program - El Yunque National Forest in Puerto Rico, Chaco Culture National Historical Park in New Mexico, Acadia National Park in Maine, Hawai'i Volcanoes National Park in Hawaii, and Denali National Park and Preserve in Alaska
(4) Presidential $1 Coins - Presidents Chester Arthur, Grover Cleveland (1st term), Benjamin Harrison, and Grover Cleveland (2nd term)
(1) Native American $1 Coin - with the reverse featuring a Native American and horse in profile with horses running in the background, representing the historical spread of the horse and reflecting the theme of "Trade Routes in the 17th Century"
(1) Kennedy half-dollar
(1) Roosevelt dime
(1) Jefferson nickel
(1) Lincoln cent
Order your 2012 Mint Set and add these 28 uncirculated United States coins to your collection!