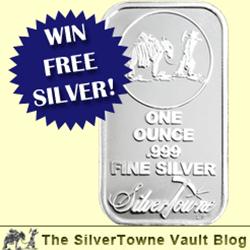 Free Silver!?
What's better than owning a shiny new piece of silver bullion? Getting that silver for free! SilverTowne is excited to announce our new silver giveaway – giving you a chance to win free silver each and every month. To be eligible to win, all you have to do is be a current subscriber of the SilverTowne Email Registry when the monthly drawing takes place. And of course, no purchase is necessary to enter or win.
On or around the 15th of every month, one lucky winner will be selected at random from all subscribers to receive a free silver bar or medallion from SilverTowne (design our choice). A chance to win free silver isn't the only benefit to subscribing to SilverTowne email updates, although it is a pretty good one – as a subscriber you will also receive exclusive special offers and be the first to know about new selections from SilverTowne.
As a current subscriber you'll automatically be entered into each month's drawing – no need to enter multiple times! However, you will want to keep your subscribed email address current and pay attention to emails received from SilverTowne, as this is how you'll be notified if you are selected as one of our monthly winners. As stated in the Official Silver Giveaway Terms and Conditions, the selected winner will have 14 days to respond to the winning notification email (failure to do so will forfeit the rights to the prize and an alternate winner will be selected for that month). So even if you aren't selected as an initial winner in any given month, there's still a chance at becoming an alternate winner!
The SilverTowne Silver Giveaway is open to U.S. citizens only, and winners must have a mailing address within the United States to which their prize will be sent. Sorry Prospector Pete, employees and their families are not eligible. So, who's ready to win some free silver? If you're not already signed up to receive our email updates, click on the "Signup for Free Email Updates" link in the header of www.silvertowne.com, or join us on Facebook (www.facebook.com/silvertowne) and find the signup form there. Good luck and thanks for being a valued SilverTowne customer!
For complete rules, read the Official Silver Giveaway Terms and Conditions (found at the SilverTowne Email Registry signup form).