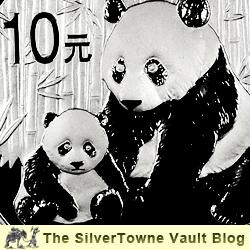 2012 Chinese Panda Silver Coins
Panda silver and gold bullion coins from China have been a favorite of collector's worldwide for many years. The Chinese government first introduced the Gold Panda coins in 1982, with the Silver Pandas coming along the following year. Both the gold and silver versions have been released every year, with just a few exceptions, since then. The bullion coins are struck by the mint of the People's Bank of China (the central bank of the People's Republic of China), which is responsible for the currency and coin production of the nation.
The 2012 Silver Panda coin depicts a mother panda and her cub, with bamboo shoots appearing behind them. Inscribed around the pandas is the face value (10 Yuan), silver content (1oz Ag) and purity (.999). The obverse features a well-recognized China landmark, the Hall of Prayer for Good Harvests (The Temple of Heaven), which is located in Beijing. Above the image, written in Chinese characters, is inscribed "People's Republic of China". The year "2012" is struck below the image.
Beloved and protected around the world, the panda bear has become a national symbol of China. With each year's release, the design of the gold and silver panda coins changes to reflect these beautiful creatures. For this reason, along with the fact that the coins are guaranteed by the Chinese government in purity, weight, and content, the Silver Pandas are highly sought-after year-after-year. SilverTowne is pleased to offer this great coin in both MS69 and MS70 conditions as certified by NGC. Both grades are available in three distinct labels: a standard early release blue label, a panda label, and a SilverTowne exclusive country label (which features the outline of the country of China). Add Silver Pandas to your collection today!