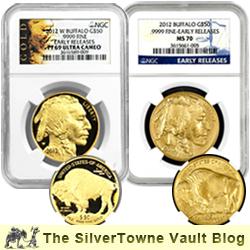 2012 Gold Buffalo
The U.S. Mint has released Gold Buffalo bullion coins every year since 2006, and every year these coins remain a popular choice with collectors and investors alike. This is because of the coin's classic design and the .9999 fine 24k gold composition. Gold American Buffalos are also the first 99.99% fine 24-karat gold coins ever made by the U.S. Mint. The 2012 version of these coins, now available in both proof and mint state, are proving to be just as popular as previous years.
The Gold Buffalo coin's design is based on the original Buffalo Nickel. The obverse (front side) features the likeness of a Native American, believed to be based on one of three possible American Indians. The reverse (back side) depicts an American Bison, or "buffalo", hence the coin's name. Inscriptions include "LIBERTY" and "2012" on the obverse, and "UNITED STATES OF AMERICA", "E PLURIBUS UNUM" and "IN GOD WE TRUST" on the reverse. Also on the back you'll find the coin's legal tender value of "$50" and the weight and purity of the coin "1OZ .9999 FINE GOLD" inscribed just below the buffalo.
The $50 face value gold coins (which measure 32.7mm diameter) are legal tender and are guaranteed in weight (31.108 grams), content (1 troy ounce of pure gold) and purity (99.99% pure) by the U.S. government. American Gold Buffalo bullion coins are among the purest gold coins in the world in terms of fineness and metal content, and by law the gold for the coins must originate from newly mined sources in America.
Gold Buffalos offer a simple and tangible means for investors to own 24-karat gold, and a great way for collectors to add a valuable design to their collection. The proof and mint state versions of the 2012 Gold American Buffalos are now available – add them to your collection today!