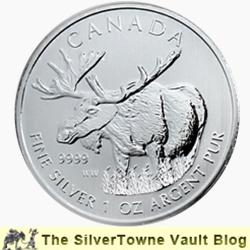 Canadian Wildlife Coins - The Majestic Moose
The fourth release in the Canadian Wildlife Series of silver bullion coins, the majestic Moose, is the latest wildlife design made available by the Royal Canadian Mint. A tribute to Canada's largest mammal - the reverse design features a Bull Moose with large antlers standing in tall grass. The obverse of the silver coin, like all of the releases in the Wildlife Series, depicts Her Majesty Queen Elizabeth II.
Popular with nature lovers, as well as silver collectors and investors, the Canadian Wildlife Series will include a total of 6 coins. The Royal Canadian Mint plans to release the fifth coin later in 2012 and the sixth coin in early 2013. All of the Canadian Wildlife bullion coins are composed of .9999 fine silver. Inscriptions on the reverse of each coin in the series include CANADA, 9999 and FINE SILVER 1 OZ ARGENT PUR.
The four selections released thus far include:
Wolf Silver Bullion Coin - Showcases a Timberwolf standing on a snowy hill with a full moon in the distant sky.
Bear Silver Bullion Coin - Features a roaring Grizzly Bear standing on all fours at the edge of a body of water.
Cougar Silver Bullion Coin - Depicts a Canadian Cougar leaping over a fallen tree limb while baring its sharp teeth.
Moose Silver Bullion Coin - As described above, this latest design portrays a Bull Moose with large antlers standing in tall grass.
What members of Canada's vast wildlife population will be featured on the final two coin releases? The Royal Canadian Mint has yet to release this information, so we'll all just have to wait with anticipation to find out. In the meantime, be sure to add the majestic Moose to your collection!