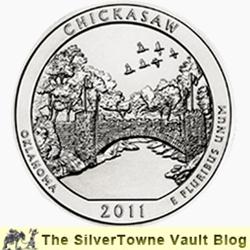 2011 Chickasaw 5 oz Silver Coin
The final 2011 5oz America the Beautiful Silver Collector Coin is now available – featuring Chickasaw National Recreation Area! This expansive area, situated in the foothills of the Arbuckle Mountains in south-central Oklahoma near Sulphur, was named to honor the Chickasaw Indian Nation. The park was originally named Sulpher Springs Reservation, then renamed Platt National Park, and eventually combined with Arbuckle Recreation Area to form what is now known as Chickasaw National Recreation Area.
The reverse design of the bullion coin depicts Chickasaw's Lincoln Bridge, a limestone bridge built in 1909 to commemorate the 100th birthday of Abraham Lincoln. The bridge is just one example of the park's many architectural works, which also include pavilions, park buildings, and enclosures for the park's many natural springs. Visitors to the park enjoy swimming, boating, fishing, picnicking, camping, and hiking. The beautiful design on this coin brings to mind a relaxing day spent taking in a breathtaking natural setting, such as the Lincoln Bridge area of Chickasaw Recreation Area.
The gorgeous collectible America the Beautiful bullion coins measure an impressive three-inches in diameter, weigh 5 troy ounces, and contain .999 fine silver. They are produced with an uncirculated finish at the Philadelphia US Mint and therefore display a "P" mint mark. Furthermore, the edge of each coin is incused with the coin's fineness and weight.
Add the 2011 P Chickasaw 5oz Silver Coins to your collection!