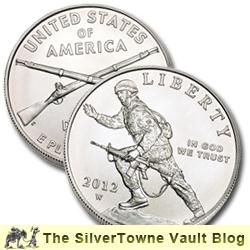 US Infantry Soldiers - A Commemoration
The United States mint recently released its latest Commemorative Silver Dollar, honoring United States Infantry Soldiers. The obverse (front) and reverse (back) designs of this silver dollar reflect the courage, pride and sacrifice that these soldiers display every day.
Designed by Joel Iskowitz and engraved by Michael Gaudioso, the obverse features a modern Infantry Soldier in mid-stride carrying a rifle while beckoning to fellow troops to "Follow Me!" (which is the U.S. Army Infantry's motto). The design is similar to the "Follow Me" statue located in front of the National Infantry Museum (and its replica version in front of the Infantry School). Inscribed on the front of the coin are "LIBERTY", "IN GOD WE TRUST" and "2012". The reverse, designed by Ronald D. Sanders and engraved by Norman E. Nemeth, depicts the Infantry branch insignia of two rifles (vintage 1795 Springfield muskets) crossed to form an X. Inscribed on the back of the coin are "UNITED STATES OF AMERICA", "ONE DOLLAR" and "E PLURIBUS UNUM".
According to a February 17th press release from the U.S. Mint, Infantry graduates were among the first in the nation to receive the Infantry Soldier Silver Dollars. "Nearly two hundred graduating Army Infantry soldiers today were among the first Americans to receive the newly released United States Mint 2012 Infantry Soldier Silver Dollar. The coins were presented to members of the 198th Infantry Brigade's F Company, 2d Battalion, 19th Infantry Regiment, gathered at Fort Benning's Parade Field for their graduation ceremony…As special recognition of today's ceremony, the 198th Infantry Brigade's distinguished honor graduate, the drill sergeant for this cycle and each of the close to 200 graduating infantrymen were presented the 2012 Infantry Soldier Silver Dollar by active duty and retired command sergeants major. Following the ceremony, the commemorative silver dollar coins were available for purchase at several locations at the National Infantry Museum and Soldier Center."
The Infantry Soldier Silver Dollar Coins are available in both proof and uncirculated mint state collector varieties. Show your support and honor the sense of duty and history of the United States Infantry by adding this commemorative silver dollar to your collection. SilverTowne now has available MS69, MS70, PF69 and PF70 in two distinct labels, as graded and certified by NGC.