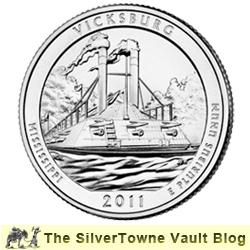 2011 Vicksburg 5 oz Silver Coin
The US Mint is releasing the final two 2011 5oz America the Beautiful Silver Collector Coins in the early part of 2012. The first of these Uncirculated Coins, featuring the Vicksburg National Military Park located in Mississippi, is now available! The last 5oz version in the 2011 line-up, Chickasaw National Recreation Area, is expected to be available by early March.
Vicksburg played an important part in the American Civil War, as the winner of the battle there would control the "lifeblood of America", the Mississippi River. The design on the reverse of the Vicksburg ATB coin portrays the U.S.S. Cairo, a Union ironclad gunboat, as it would have appeared floating down the Yazoo River during the Civil War. After the war, the Cairo was recovered, partially restored, and is now on display at the Vicksburg National Military Park. Visitors to the park will also find 1,300 monuments; headstones; cannons; cast iron tablets; position markers; a 16 mile tour road and a virtual museum exhibit depicting what life would have been like during the siege. If you visit in the summer, you might also catch a Civil War reenactment.
The gorgeous collectible America the Beautiful bullion coins measure an impressive three-inches in diameter, weigh 5 troy ounces, and contain .999 fine silver. They are produced with an uncirculated finish at the Philadelphia US Mint and therefore display a "P" mint mark. Furthermore, the edge of each coin is incused with the coin's fineness and weight.
Add the 2011 P Vicksburg 5oz Silver Coins to your collection!