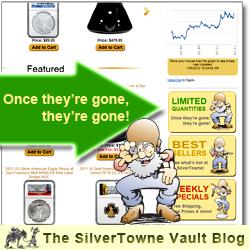 Get 'em While You Can
SilverTowne recently launched a special section on our website to list coins, bullion and other selections for which we only have a very limited quantity. Throughout the course of the year, we acquire many hard-to-find items from coins shows, auctions, dealers, and other sources, which we then offer to you, our valued customers. Many of these items you'd be hard-pressed to find anywhere else!
If you've never shopped our Limited Quantities category, or haven't visited in a while, here are some items you may have missed that were recently sold:
- Engelhard Silver Bars and Medallions
- 1986 China 1oz Gold Panda MS69
- 1999 Canadian 1/10oz Gold Maple Leaf 20 Year Anniversary MS67
- 1992 US Olympic 6-coin set
- 2007 Australian 1oz Gold Pig
- 1996 Liberty Dime MS67
- 1996 China 1/20oz Gold Unicorn PF69
- 1984 Isle of Man 1/10oz Gold PF70
- and many more!
Here are some items that are currently available at the time of this post (but keep in mind, we typically only have one or two of each item listed in this category):
- First Spouse 1/2oz Gold coins in various grades
- 2010 Australia 5oz Silver Year of the Tiger MS69
- 2007 1oz Platinum American Eagle MS70
- 2005 South Africa 1/4oz Gold Krugerrand PF69
- 2003 1oz Gold American Eagle MS70
- 2000 Australia Sydney Olympics Gold Coin Collection Special Edition
- 1915 Austria Gold Ducat Restrike PF66
- 1979 Panama 1.2oz Gold Jaguar MS69
- 1996 Great Britain 1/10oz Gold Britannia
- 1991 Mount Rushmore Anniversary 6-coin set
- and many more!
You can access the Limited Quantities category from the SilverTowne homepage at www.silvertowne.com by clicking on the button half-way down the right-hand side of the page (just under the market chart) – or you can get there directly by going to www.silvertowne.com/c-353.aspx.
The items in this category change nearly every day, with new items being added and others being sold out, so be sure to check back often. And remember, due to the scarcity of these items, once they're gone, they're gone!