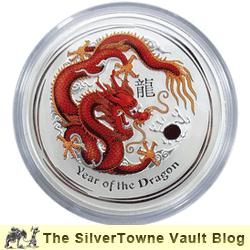 2012 Year of the Dragon
Over the past several weeks, the SilverTowne world coin experts have been adding many new "Year of the Dragon" coins from The Perth Mint to our ever-growing lineup of modern world coins. Celebrating the fifth animal in the 12-year lunar cycle of the Chinese zodiac, the dragon, the many variations of The Dragon Coins have all been very popular. Today The Perth Mint announced "The 2012 Year of Dragon is The Perth Mint's most successful design theme in the last ten years".
Many variations of this popular theme are still available from SilverTowne, including NGC-graded 1oz silver bullion coins, gilded 1oz silver coins (with or without a case), colorized half-ounce silver coins graded by NGC, 1kilo silver bullion coins (both certified and non-certified), NGC-graded gold coins (twentieth, tenth, quarter, half ounces), a half-ounce baby dragon proof coin with colorful packaging, colorized gold proof coins that come in an elegant case and box, the gorgeous gemstone 1kilo silver bullion coin with case, and even the very unique 4-piece silver rectangle Lunar Calendar Series Set featuring the colorized Year of the Dragon silver bars!
Coming Soon: 1-ounce Gilded NGC-Certified Silver Dragon Coins and 1-ounce Colorized NGC-Certified Silver Dragon Coins are expected to arrive within the next week.
Celebrate the Chinese Year of the Dragon, which begins January 23, 2012, with the popular dragon-themed coins from the Perth Mint. Add your favorites to your collection today!