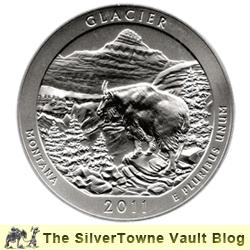 Glacier 5 oz Silver Coin
The second offering in the US Mint's 2011 P America the Beautiful Five Ounce Silver Uncirculated Coin Series features the stunning Glacier National Park located in the state of Montana. The park is named for its impressive glacier-carved terrain and remnant glaciers from the ice age. The massive Glacier National Park includes over one million acres of forests, meadows, lakes, peaks and valleys, as well as parts of two mountain ranges.
The design depicts a breathtaking view of the northeast slope of Mount Reynolds towering in the distance, with a mountain goat in the foreground. The coin itself measures an impressive three-inches in diameter, weighs 5 troy ounces, and contains .999 fine silver. They are produced with an uncirculated finish at the Philadelphia US Mint and therefore display a "P" mint mark. Furthermore, the edge of each coin is incused with the coin's fineness and weight.
Order Yours Today >>