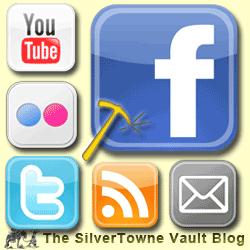 Let's Get Social
The SilverTowne online communities offer easy ways to keep up-to-date with everything SilverTowne. Popular social networking sites and modern day communication methods offer great ways to keep in touch with your favorite brands and provide easy ways for you to communicate with your friends – and you just might make new connections along the way. Join us on Facebook & Twitter, subscribe to our YouTube & Flickr channels, read The Vault Blog, and sign up for the SilverTowne Email Registry to always be "in-the-know". Even if you've never used these online communities before, don't fret. Signing up is free and easy, so there's no better time than now to get started!
FACEBOOK
www.facebook.com/silvertowne
Facebook is obviously the most popular online social network, offering an easy way for you to have a more personal experience with your favorite brands. "Like" SilverTowne on Facebook and be the first to know about specials, events and breaking news. It's also a great resource when you have a question or want to join discussions with other "fans" of SilverTowne, coin-collecting, numismatics and more. Join in the fun!
TWITTER
www.twitter.com/silvertowneLP
Follow @silvertownelp on Twitter to learn about new product releases, receive special offers, to stay informed of new blog postings and more. Twitter also makes it easy to share your favorite content with your "followers" by simply "re-tweeting" the original "tweet". Trust us, it sounds more complicated than it really is.
YOUTUBE
www.youtube.com/user/SilverTowneLP
Subscribe to the SilverTowne YouTube channel and watch videos of the minting process, commercials and more. You'll also be able to rank your favorites and leave comments for others to see.
FLICKR
www.flickr.com/photos/silvertowne
Here you'll find a "photostream" of some of our favorite pictures. Add the SilverTowne Flickr page to your favorites and stay informed anytime new photos are added.
SILVERTOWNE VAULT BLOG
www.silvertowne.com/s-1-the-vault-blog.aspx
Read the SilverTowne Vault Blog for all the latest news, product releases, tips and more! To stay informed of new blog posts, subscribe to the RSS Feed in your favorite online reader (Google, Yahoo, etc) or mobile reader app (popular reader apps include Pulse and Taptu). To subscribe, click on the RSS Feed icon on the blog page, or use the following RSS Feed URL: /x-rss.blog.aspx?sectionid=1&storeid=1&filterproduct=False
SILVERTOWNE EMAIL REGISTRY
Signup for the SilverTowne Email Registry to receive exclusive offers and be the first to know about new selections. To subscribe, click on the link "Signup for Free Email Updates" at the top of any page on www.SilverTowne.com, or visit the following URL: (http://silvertowne.us2.list-manage.com/subscribe?u=d48b83f803fafd5b84e82216f&id=31591be20b)
Thank you for joining us and allowing us to share our passion for coins with you! As Leon is fond of saying "Make new friends, but keep the old…one is silver, the other is gold" – the SilverTowne online communities are the perfect way to do just that.