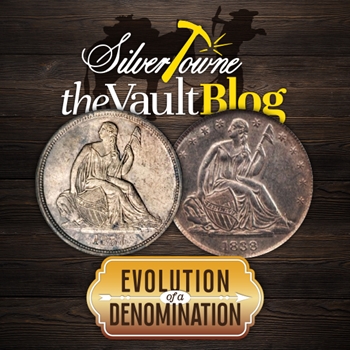 As the era of President Andrew Jackson drew to a close in 1837, so did the coinage design that reflected the time. The United States was ready to move forward into a new era that included the way coinage looked in America. With influence from Mint Director Robert Patterson, United States Chief Engraver William Kneass prepared a sketch of the image of Liberty with Britannia in mind.
Liberty Seated (1837-1891)
While Kneass was tasked with the artwork for the new design of the ten cent piece, or dime as commonly known, he suffered a stroke which put artists Thomas Sully and Titian Peale in the driver's seat for the finishing of the sketches. It was then that Director Patterson brought in part-time Mint employee and future Chief Engraver Christian Gobrecht to take the second engraver position and prepare the dies for the sketches.
The finished design first made its appearance on the 1836 silver dollar. Featuring a seated Liberty on a rock holding the Union Shield with her name featured in her right hand, the design was eventually brought to the 1837-dated dime as well as the half dime. The reverse features the words "ONE DIME" surrounded with a wreath. The words "UNITED STATES OF AMERICA" are featured around the edge of nearly the whole coin. As it has come to be known for a lot of earlier coinage from the United States though, modifications are made and changes influence a number of varieties.
The first year for the newly designed dime did not feature stars on the obverse surrounding the seated Liberty. However, that changed in 1838 when stars flanked either side of her and remained that way until 1860. During this time though, the nation was facing an economic depression that would make ten cents a large sum of money. The Seated Liberty dime's major design change in 1838 would make the coins' existence highly noted even though it was in circulation in 1837. But as the country would be facing hardship, the hoarding of silver coinage also became a problem. This included the entire Seated Liberty design series featuring the half dime, quarter dollar, half dollar and dollar.
In 1838 alone, nearly 2.5 million dimes were struck, including the 489,034 struck at New Orleans that did not feature the stars on the obverse. Up until 1860, design modifications including drapery, shield position, arrows at the date, and weight standard would create more varieties for the dime series. However, all coins between these dates were struck at three different minting facilities: Philadelphia, New Orleans, and San Francisco.
From 1860-1891, the legend "UNITED STATES OF AMERICA" was transferred to the obverse where it replaced the stars in encircling the seated Liberty. During that time, the weight of the dime was also increased from 2.49 grams to 2.50.
Source: NGCCoin.com; The Official 2022 Red Book