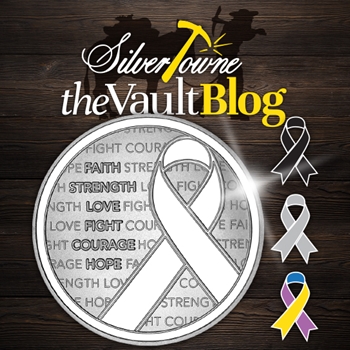 This month of May, there are three cancers specifically that are part of a national awareness campaign brought to the public. While every month brings about its own set of awareness days and special month-long campaigns, we wanted to let you know that our special Awareness themed silver bullion looks to spread messages of support, courage, strength, and more. This silver medallion is a unique gift that could easily be given to someone close to you going through the harrowing fight that is cancer or other related illnesses.
Melanoma and Skin Cancer - Black
If you did not already know, skin cancer is one of the most common cancers in the United States and worldwide. According to the Skin Cancer Foundation, one in five Americans will develop skin cancer by the age of 70. More than 9,500 individuals are diagnosed with some form of skin cancer every day and more are diagnosed with this cancer every year in the U.S. than all other forms of cancer combined. The foundation's campaign features the hashtag #SharetheFacts and relies on social media to help share facts, prevention guidelines, and early detection content to spread the message across the world.
Brain Cancer - Gray
There are many types of brain and spinal cord tumors and this year alone, there are approximately 24,540 individuals in the United States that are expected to be diagnosed with at least one of them according to the American Association for Cancer Research. These cancers, including nervous system cancers, will make up a portion of the 85,000 expected brain tumors to be diagnosed this year alone in 2021. Volunteering, do-it-yourself fundraising, event participation, sharing your story, and many more avenues are ways to get involved and help spread the word about brain cancer and related illnesses.
Bladder Cancer - Purple, Blue, and Marigold
Bladder cancer is more common within the United States than people realize. According to the National Cancer Institute's Surveillance, Epidemiology, and End Results Program, over 83,000 individuals will be diagnosed with bladder cancer and over 17,000 are expected to die from it in 2021. Over three out of four people have survived five years or more after being diagnosed with bladder cancer between 2011 and 2017, according to federal statistics found at the American Association for Cancer Research. Risk factors for bladder cancer includes but is not limited to use of tobacco production, family history, exposure to specific chemicals, drinking well water will high levels of arsenic, and having a history of bladder infections.
As it was later found that the drop of production for the Mint sets matched in timing to the beginning of the revamped commemorative program that launched in 1982, complaints remained steadfast and the Mint would reverse their decision in 1984. Since then, a United States Mint Set has been produced every year.
Show Your Support With Silver
Custom minted at the SilverTowne Mint in Winchester, Indiana, these .999 pure silver bullion rounds are exclusive to SilverTowne. With an obverse that features an awareness ribbon atop the words "FAITH, STRENGTH, LOVE, FIGHT, COURAGE, AND HOPE" in bold letters, these words alone stand for encouragement and support. The reverse features our standard non-dated design with the weight and purity designations of "1 Troy Ounce .999 Fine Silver" encompassing a 'blank' area designated for personalization with optional custom engraving.
Spreading awareness with the unique gift of silver is truly a once in a lifetime experience. Developed over three years ago by an experienced in-house team, this addition to our special occasion silver is truly something to be proud of. Commemorate those you love with a powerful message of support and hope while spreading awareness with this special piece.
Source: American Association for Cancer Research; Skin Cancer Foundation