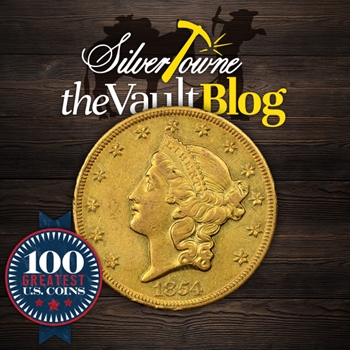 The largest circulating gold coin to have ever come from America was almost a given to make it on the 100 Greatest United States Coins list compiled in the Whitman Publishing fourth edition of the series. However, the question is, which date and why? While there are a number of possibilities stemming from the series with the potential for more than one to be outlined from the list, there is one that sticks out more than others.
With author Jeff Garrett leading us along in the publication with help from Ron Guth, we take a closer look at this top 50 contender that boasts a small mintage, a New Orleans designation, and a total certified population lower than 40.
#32 - 1854-O Liberty Head Double Eagle
Designed by the fourth Chief Engraver of the United States Mint, James B. Longacre, the Liberty Head Double Eagle gold series was produced from 1850-1907. The low mintage of the 1854-O specifically resulted in a change in priorities from the United States Mint overall as gold was found in California which led to the opening of the San Francisco Mint. Focus in New Orleans turned to silver coins and other lower denominations of gold coins like the quarter eagles, $3 pieces, half eagles, and eagles. The low mintage was also dubbed as an "accidental rarity" more so than a "deliberate" one as just 3,250 pieces were produced.
Most of the 1854-O double eagles were said to have immediately been released into circulation due to no Mint State examples being known today. Coins in an average condition showcase bag marks and slightly worn placement. This is the reason, in addition to the extremely low mintage of course, that the 1854-O struck $20 gold piece has become a major priority for gold collectors.
Back when the SS Republic was discovered, an 1854-O double eagle was also found.That example went on to be certified in an AU-58 condition. They would also find an example of almost every Type 1 double eagle besides the 1856-O, an 1861 Paquet Reverse, and an 1866-S No Motto.
The coin back in 1960 was valued at just $500 in an Extremely Fine condition. By this fourth edition published in 2015, that same 1854-O double eagle was valued at $350,000.