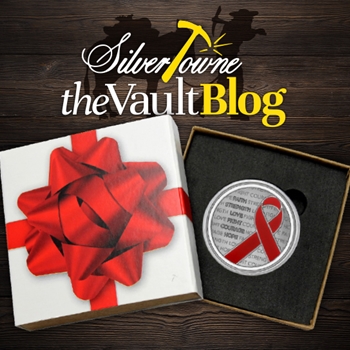 The month of March signals the return of Spring, holidays such as St. Patrick's Day and Easter, and daylight savings time. On a much larger scale, the third month of the year brings about a number of awareness campaigns aimed at engaging the public to, you guessed it, bring more awareness to specific causes and observances. In the United States, the whole month of March is American Red Cross Month.
2021 marks the 140th Anniversary since the Red Cross was founded in May of 1881 by Clara Barton. Since then, Barton's legacy has lived on as the organization does everything from helping during disasters to ensuring communities have access to blood donations. The American Red Cross month observance came along in 1943 when President Franklin D. Roosevelt issued the first proclamation deeming it so.
Custom minted at our own SilverTowne Mint in Winchester, Indiana, these .999 pure silver bullion rounds are exclusive to SilverTowne. With an obverse that features an awareness ribbon atop the words "FAITH, STRENGTH, LOVE, FIGHT, COURAGE, AND HOPE" in bold letters, these words alone stand for encouragement and support. The ribbon has been hand painted red by our in-house experts to ensure immediate recognition of not only Red Cross Month, but a number of causes supported with the red ribbon including but not limited to heart disease, Epilepsy Month, Women's History Month, Endometriosis, Cerebral Palsy, and more. The reverse features our standard non-dated design with the weight and purity designations of "1 Troy Ounce .999 Fine Silver" encompassing a 'blank' area designated for personalization with optional custom engraving.
Spreading awareness with the unique gift of silver is truly a once in a lifetime experience. Developed over three years ago by an experienced in-house team, this addition to our special occasion silver is truly something to be proud of. Commemorate those you love with a powerful message of support and hope while spreading awareness with this special piece.
As our custom packaging completes your gift, choose the red ribbon custom outer sleeve to represent the cause and awareness of the related illness or cause you wish to speak to. Gift wrapping is no longer needed with this option. With the addition of a natural kraft gift box made with recycled materials within the USA, your silver bullion awareness ribbon medallion will fit snugly within a fitted plastic capsule that is cradled by a custom foam insert.