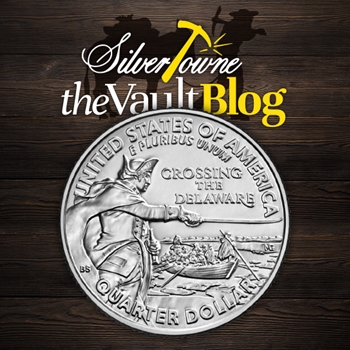 A couple of weeks ago, we featured the first of the United States Mint's 2021 Production schedule in our blog. On that list was the release of the last America the Beautiful quarter dollar design honoring the Tuskegee Airmen National Historic Site. The 2021-dated coin was said to have been released into circulation in the first days of January and the uncirculated versions from the Philadelphia, Denver, and San Francisco Mints will be made available in rolls and bags on February 8th.
However, that leaves many wondering what the Mint will do for the quarter program moving forward. We no longer have to wonder anymore as, on Christmas Day, they announced the plans for the new reverse. The newly designed 2021 quarters will be released into circulation by the Federal Reserve Banks on April 5th.
The new reverse design features General Washington commanding his troops across the icy Delaware River ahead of the Battle of Trenton during the American Revolutionary War. "UNITED STATES OF AMERICA," "E PLURIBUS UNUM," "CROSSING THE DELAWARE," and "QUARTER DOLLAR" can also be seen inscribed on the coin. Designed by Artistic Infusion Program (AIP) designer Benjamin Sowards, the design was sculpted by Medallic Artist Michael Gaudioso.
On Christmas night in 1776, General George Washington accompanied 2,400 of his troops and artillery across the historic Delaware River. The icy overnight trip was taken to ready themselves for a surprise attack on both British and Hessian soldiers during the war. This historic moment in American history will now be displayed on the Washington Crossing the Delaware quarter dollars.
The obverse of the coin will also revert back to the design of President Washington that appeared on the coins before the 50 State Quarters Program. The design was done by John Flanagan.
Source: United States Mint