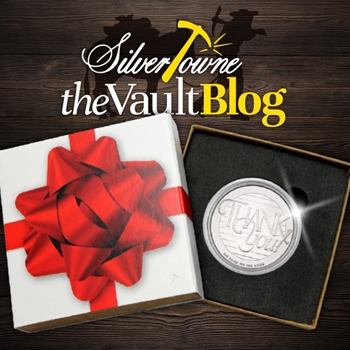 This year has been a doozy. But let us be honest, unless you work in the healthcare field and on the frontlines of this ongoing and dangerous pandemic, we do not really have the grounds to claim it as much more than that. Every day, healthcare professionals mask up and suit up for yet another day in the trenches saving lives and seldomly getting a simple 'thank you' in return. So, while it may not seem like much, we are offering a Silver of the Month option for December that says those two words that cannot be said enough during these troubling times. Not sure what the Silver of the Month really means? Keep reading.
Do you like free shipping? Of course, you do. Do you like the opportunity to get silver without having to buy more than what you want? Who doesn't? Welcome to our unofficial official silver of the month club where you do not have to sign up or enter any more information than necessary. All you have to do as a loyal SilverTowne customer is scroll to the bottom right of the homepage to figure out what piece of silver is featured each month and boom, you are in!
Custom minted at our very own SilverTowne Mint in Winchester, Indiana, the obverse of this exclusive round largely features the words 'Thank You!' atop a mirrorlike horizontal lined background. The reverse features our standard current non-dated back with the weight (ONE TROY OUNCE) and purity (.999 FINE SILVER) designated around the area meant for optional engraving.
Your .999 fine silver round will come protected in a plastic capsule to ensure its safety during the shipping process. It will then fit snugly inside of a premium dark grey foam insert that fits directly into our in-house designed SilverTowne gift box with natural kraft paper made from recycled materials within the United States. Tie your 'Thank You!' silver gift up with a bow by choosing one of the many colorful outer box sleeves available upon checkout. The sleeves come with customizable blank areas on the back for your To/From message. No gift wrapping is needed!