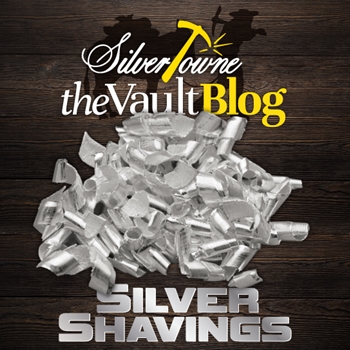 In business, it is always best to keep finding new ways to get your product and name out there in front of new people while maintaining your current customers. New ideas are needed to elevate and keep growing in the ever-changing social, economic, and technological climate we live in today. That is why, with our over 70 years of experience, it is imperative to keep finding new ways to present silver that is intriguing. Let us introduce you to our BRAND NEW product: silver shavings.
Traditionally, silver is melted from something called "silver shot" which looks like small pellets and is easy to melt down. These new silver shavings are produced by "shaving" large chunks of silver and melt up to two times faster than the traditional silver shot. The shavings, once melted, are made into bullion blanks that are then used to manufacture and produce the bullion bars and rounds that you readily see on our website.
Instead of melting them all down, we decided to try our hand at presenting them in a new way that makes it different from all the other ways one can collect silver bullion. Available currently in three different sizes, 10oz, 1 Kilo (32.15oz), and 100oz, the silver shavings will arrive in a cylindrical clear plastic container with a white tamper-evident tape seal along with clear shrink wrap around the whole container. The jar will have a certification label that certifies the chosen lot amount in .999 fine silver.
Make sure to stop by our website and browse all the certified .999 fine silver shavings options! Collect silver like never before in this new and exciting way!