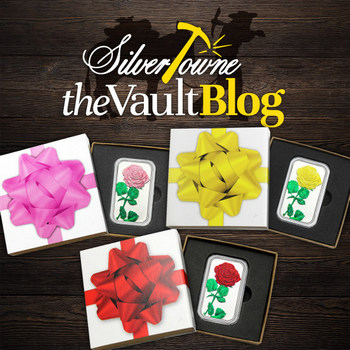 Mark your calendars now: May 10th is Mother's Day in the United States. While this year's celebration may look different from years prior, it is important now more than ever to recognize those women in our life that express unconditional love and the sort of encouragement that the world needs. Whether it is your mother, sister, grandmother, aunt, cousin, niece, or friend, let them know how much you appreciate them on this special day and every day of the year.
But we know what you are thinking right about now, with everything going on, how can I possibly shop or plan a family gathering? We have you covered. While we may not be able to give you the best advice on a gathering of sorts as so much is unknown at this point when that will be able to happen again, we can help you in the gift department. If you did not know already, we here at SilverTowne specialize in silver bullion and other precious metals. A lot of our silver is special occasion centric and Mother's Day is absolutely a special occasion worth celebrating.
While we have specific pieces geared towards that day in general, we wanted to direct your attention to our year-round available Rose collection. Available in a number of different options, find your appreciation among the flowers and gift your mother a bouquet of silver bullion! Like Stevie Wonder said, "If love is as sweet as a flower, then my mother is that sweet flower of love."
Roses for Mother's Day
One of the most well-known and timeless flowers out there is the rose. Full of symbolism, roses are a traditional gift on holidays such as Valentine's Day, Anniversaries, and Mother's Day. We have a Rose silver bar collection comprised of .999 fine silver and available in plain silver and three different colored enameled silver ingots. These silver roses will never die!
Custom minted at our very own SilverTowne Mint in Winchester, Indiana, these pieces are exclusive to SilverTowne and feature a single intricately detailed rose on the obverse. Those roses that are handpainted and enameled are deep and vibrant in color and topped off with glitter. The reverse features our standard non-dated design that includes the weight and purity designation (ONE OUNCE, .999 FINE SILVER) around an oval-shaped blank area that is designed for optional engraving.
Each silver bullion ingot will arrive in a protective plastic capsule to ensure maximum safety during shipping. They will fit inside of our in-house designed SilverTowne gift box with natural kraft paper made from recycled material within the United States. A premium dark grey foam insert fits directly inside the box and holds your bar snug.
Roses that are red are traditionally the most popular of colored roses. Symbolizing love, respect, courage, passion, and congratulations, the red rose is perfect for gifting a mother in your life. Paired with a red ribbon outer box sleeve to top off your gift, this beautiful red rose silver bar will make any woman in your life's day!
Symbolizing happiness, elegance, romance, admiration, sweetness, and the utmost thanks, the pink rose is a perfect gift that expresses personal sentiment and represents a truly treasured keepsake. Mother's Day is a perfect time to express your gratitude and appreciation for the women in your life who love unconditionally and support you in the greatest way possible. Choose a pink bow outer box sleeve or from a number of alternate packaging options to make this a memorable gift!
The yellow rose represents friendship, optimism, welcoming, and joy. For a lot of us, a mother is a first friend, a best friend, and a forever friend. This enameled yellow rose option is the ultimate gift for the ultimate friend in your life. Have a fellow mother in arms that deserves a special thank you this year? Gift her a yellow rose .999 fine silver bar that is guaranteed to make her list of the most unique gifts she has ever received! Top it off with a yellow bow outer box sleeve and make it official!