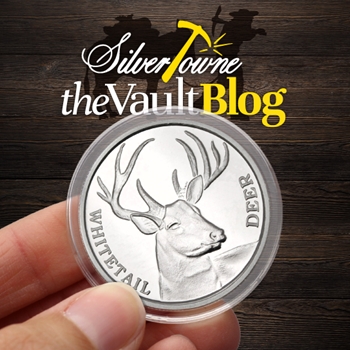 Avid hunters gather 'round: hunting season is just days away. Four days to be exact.
Beginning November 16th and lasting until December 1st, the official season for hunting deer with firearms goes into full effect.
Dating back to long before modern civilization began, deer hunting was a means of surviving. Aside from food, ancient peoples needed every part of the animal as it was used for clothing and carpeting while the bones were a source of weaponry like knives and clubs. Hunting was a necessity. Over time though, deer hunting has turned into a more adventurous and sportsman activity while modern technology and society have evolved. Although still used as food, hunting deer has long moved on from the days when mankind needed it for survival.
Whitetail Deer 1oz .999 Silver Medallion
Regardless of the reason, avid hunters and outdoor sportsmen can commemorate the hunting season with our one-ounce .999 fine silver medallion featuring the sought after Whitetail Deer! Most recognizable of the Whitetail Deer is the white underside of its tail. In the winter months, male deer, or bucks, shed their antlers. Every year, the antlers regrow. Based on the number of points, length, and thickness, the points on the antlers are considered a trophy in deer hunting.
Custom minted at our very own SilverTowne Mint in Winchester, Indiana, this .999 fine silver medallion is exclusive and features the head of a 10-point buck on the obverse. It also features the words "Whitetail Deer" inscribed on the outer edges around the head of the male deer. The reverse is our standard non-dated back with the weight and purity designation (ONE OUNCE .999 FINE SILVER) displayed around the middle area left for personal engraving.
Your silver round will arrive in a plastic capsule to ensure its ultimate protection. It will then fit snugly into a premium dark grey foam insert that sits inside a custom, in-house designed SilverTowne gift box with natural kraft paper made from recycled materials. Top off this reminder of a successful deer season with a camouflage print custom fitted outer box sleeve or from a number of alternate packaging options. The special sleeve has a blank area on the back for personalization so gift wrapping is not needed!