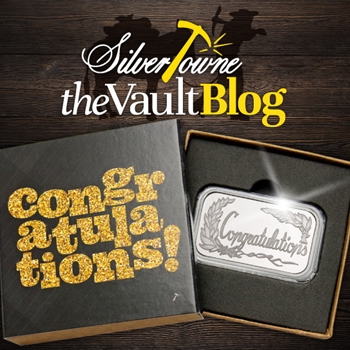 "Congratulations!" It is quite the blanket statement and can encompass a number of appropriate occasions. Retirements, anniversaries, new jobs, promotions, baby announcements, adoptions, marriage proposals, graduations, college acceptances, etc. We know the list was a bit much but to be honest, we were only getting started.
There are a number of life's special moments that warrant congratulations. That is why this time of year where a number of them could be in order, we thought we would help out those special customers of ours who gift this thing called silver bullion. Help you out, you ask? Well, if you already know about our unofficial silver of the month club and its benefits, scroll down to the part where we let you know what piece has made the month of June so special. If you need a refresher, stay right here with us while we explain.
Do you like free shipping? Of course, you do. Do you like the opportunity to get silver without having to buy more than what you want? Who doesn't? Welcome to our unofficial official silver of the month club where you do not have to sign up or enter any more information than necessary. All you have to do as a loyal SilverTowne customer, is scroll to the bottom right of the homepage to figure out what piece of silver is featured each month and boom, you are in!
Congratulations 1oz .999 Silver Bar Dated 2019
The most heartfelt and warmest of congratulations for someone's well deserved and earned success can be achieved by gifting this special one-ounce ingot.
Exclusive to and custom minted at our very own SilverTowne Mint in Winchester, Indiana, this one-ounce pure .999 silver bullion bar features the word "Congratulations" in script font on the obverse while being surrounded by a decorative border. The reverse of the ingot includes a blank area designated for engraving and personalization while being surrounded by the weight and purity designations, "ONE TROY OUNCE .999 FINE SILVER".
Upon ordering this giftable piece, your bar will arrive in a protective plastic capsule to ensure maximum safety. On top of that, it will fit snugly inside a custom in-house designed foam insert that will fit down inside a SilverTowne gift box with natural kraft paper made from recycled materials within the United States. Topping off this keepsake, choose a custom outer box sleeve that features the word "Congratulations!" in gold glitter atop a black background. There are also a number of alternative options in both packaging and outer sleeves to choose from upon checkout.
Gift Giving To the Fullest
Need something a bit more for this keepsake to make it as memorable as possible? We have just the thing! Like a lot of our exclusive silver bullion options, this one-ounce piece can also be engraved for optimal personalization! In 40 characters or less, tell someone how much you care about their latest and greatest of achievements while wishing them many more! It's a perfect gift-giving moment to let them know just how you feel about them!