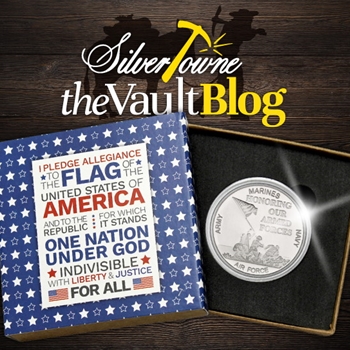 "These fallen heroes represent the character of a nation who has a long history of patriotism and honor--and a nation who has fought many battles to keep our country free from threats of terror." -Michael N. Castle
It is not an easy thing to do from our perspective--give one's life, time, and energy into protecting the freedoms granted to us at birth according to the Constitution. It is one thing to protect our families and loved ones, but to protect all who reside in the Land of the Free? Here is the thing though: those a part of the United States Armed Services do not see it that way. The love of country takes hold and the upheld values and freedoms are something they prefer not to barter. They fight for all while sacrificing themselves.
It is our strong opinion here at SilverTowne that every day, week, month, and year should be spent appreciating those women and men in uniform, but if it has been designated to do so even more in the month of May, we will gladly abide in the practice of a stronger observance.
Military Appreciation Month: May
May was selected as Military Appreciation Month in 1999 after Congress declared it so. The month-long observance was designed to honor those sacrifices made by those in the Armed Forces. The month was specifically chosen due to the other military-related observances including Memorial Day, Armed Forces Day, and Military Spouse Appreciation Day. The nation is afforded the opportunity to show their appreciation and support publicly during this month to past, present, and future individuals that proudly bear the American flag on their uniforms.
United States Military & Service Silver Bullion
Honoring those who bravely step up to protect our freedoms the best way we know how, we have a number of one-ounce bars and rounds in .999 fine silver that reveres the troops near and far on the ground, in the sky, and on the sea. The Army, Navy, Coast Guard, Marines, National Guard, Air Force---we have it all and more.
Honoring Our Armed Forces 1oz .999 Silver Medallion
Exclusive to SilverTowne, this .999 silver bullion medallion is custom minted at our own SilverTowne Mint in Winchester, Indiana. The obverse depicts one of the most historical moments ever captured, the "Raising Flag on Iwo Jima." The words "HONORING OUR ARMED FORCES", "MARINES", "NAVY", "AIR FORCE", AND "ARMY" are inscribed around the edge. The reverse features our standard non-dated blank back with the weight and purity ("ONE TROY OUNCE .999 FINE SILVER") on display around the engravable area.
This Armed Forces round will arrive in a protective plastic capsule to ensure it arrives safely to your door. It will also come with a custom foam insert within an in-house designed SilverTowne gift box made from recycled materials within the USA. To finish off your appreciative gift, there are a number of custom outer sleeve designs to add the right amount of personal touch to your gift giving. There is a designated area on the back of all available sleeve options for a special message to that special person who serves us and our country. No gift wrapping is needed!
As always, dot your I's and cross your t's and complete the ultimate gift with the option of engraving. Show your favorite patriot in arms how much their dedication and sacrifice means to you in 40 characters or less. We would give you more room if we could for these special pieces as there are so many wonderful things they do for us!
To meet all your military appreciation needs, there is a complete SilverTowne Military & Service Collection for your browsing pleasure. Go ahead--invest in that person who invests their life for our country and give them a meaningful gift that keeps on giving.