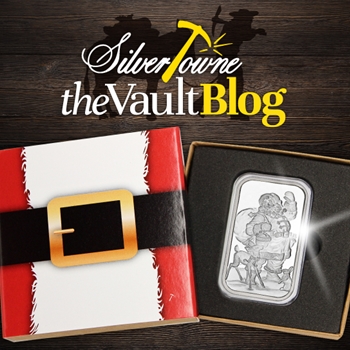 ♫♫ Silver rounds, silver rounds. It's Christmastime in the coin shop. ♫♫
Forgive us; it is our favorite time of year. The music begins and the decorations will make their way out soon. But if you know us here at SilverTowne, we have been celebrating Christmas since July.
SilverTowne Christmas Silver
Our Christmas themed silver bars and rounds are a huge deal to us. The time and effort given to create and share these wonderful designs with our customers is beyond compare. Top notch, if you will, due to the official process of design placement starting just a few short months (February to be exact) after the holiday is over.
But why such a big deal? It is a tradition, like many things during the holiday season, that is carried from year-to-year with great care since its small beginnings in the mid-1970's.
Referred to as "art bars" at the time across the silver bullion business, Christmas silver options were very limited and only came in rectangle form.
David Hendrickson, SilverTowne President, Reflects on Christmas Silver
"There were maybe two or three designs," said David Hendrickson, President and son of founder Leon Hendrickson. "There has always been a Santa face."
Aside from a short time period in the early-1980's when silver climbed in the market, SilverTowne's themed bars grew to around 10-13 designs after the establishment of our very own mint came into play in the late 1980's. Rounds also began as an option and the flexibility in designs grew enthusiastically.
"You had religious designs among the many different Christmas themes including Santa, reindeer, snowmen, three wise men, baby's first, etc," David stated. "As I said before, there has ALWAYS been a Santa face design." (Side note: Santa face is his favorite because it always does the best.)
With the addition of enamel in the late 1980's and engraving following suit in later years, Christmas silver has always been an ever-changing process climbing to what David remembers as having 20 designs available at the most.
"Our Christmas silver was a way to introduce a gift option in the market. It's a nice gift that someone won't just throw away. Everyone has options. There IS something for everyone when it comes to our Christmas designs."