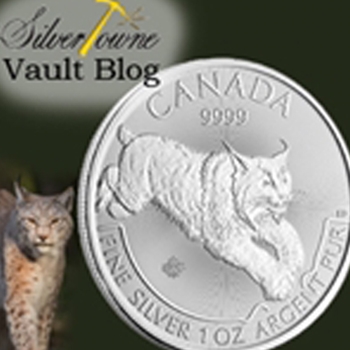 In 2016 The Royal Canadian Mint released the first coin of its four-coin Predator Series, the Cougar. The 2017 release is the second in the series featuring the Canadian Lynx 1oz .9999 Fine Silver coin(Lynx canadensis), one of Canada's most beloved iconic species. With a limited maximum mintage of 500,000 these silver coins are sure to sell out from the mint.
The Canadian lynx can be found the boreal forests that stretch across much of Canada. This wildcat is a skilled hunter that easily adapts to the changing seasons which is required in the Canadian landscape to survive. Earning a reputation as a keeper of secrets, the solitary Canadian lynx has an elusive behavior and nocturnal habits. Slightly larger than a bobcat, the Canadian lynx has a dense silvery-brown coat with a ruffed face and black hair tufts extending from the tips of its ears. Sightings of Canadian lynx are rare in nature, hence its elusive behavior.
RCM Predator Series 99.99% Silver Coins
Minted in four 9s (.9999) fine silver bullion, these silver coins are in the purest form used to make silver bullion coins. Each coin is guaranteed to be 1 Troy Ounce of pure silver and have a $5 Canadian money face value which is backed by the Canadian Government. The reverse design features a lynx leaping forward towards its prey in a powerful stance. The words "CANADA", "9999" and "FINE SILVER 1 OZ ARGENT PUR" are incused around the inner rim of the coin. Like the Maple Leaf Coins, the lynx silver coins also include the micro-engraved maple leaf privy mark that shows a "17" when viewed under magnification along with the radial line background which creates a unique light diffracting pattern. The enhanced security features for this pure silver bullion coin can add peace of mind for collectors. The obverse design then features Susanna Blunt's rendition of Her Majesty Queen Elizabeth II along with the face value of "5 DOLLARS" and the year-date inscription of "2017" and the words "ELIZABETH II" and "D G REGINA" around the rim.
Buy the Royal Canadian Mint's Preadator Series featuring the Canadian lynx today!