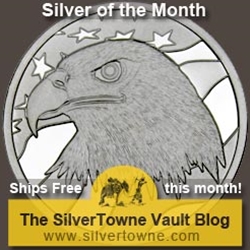 2015 June Silver of the Month
The United States of America celebrates Flag Day annually on June 14th as a commemoration of the adoption of the flag of the U.S.A., which happened on June 14, 1777. In conjunction with the observance of Flag Day, we are featuring the Pledge of Allegiance .999 Silver Medallion as the June 2015 SilverTowne Silver of the Month. This 1 troy ounce silver medallion features a waving American Flag behind the head of a patriotic eagle.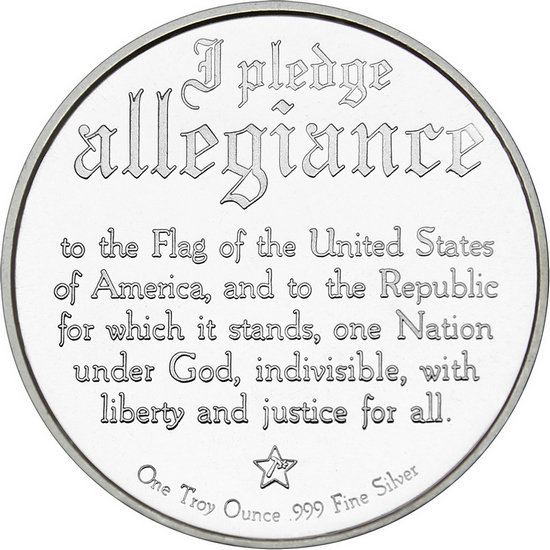 The week of June 14th is designated as National Flag Week in the United States, during which time U.S. citizens are encouraged to fly the American flag. In addition to private homes and businesses, government buildings also prominently display the flag. Several communities across the country also hold parades and other events to celebrate the national flag and everything it represents for America.
On the flip side to the bald eagle and American flag, the reverse of the Pledge of Allegiance 1oz .999 Silver Medallion includes the inscription ONE TROY OUNCE .999 FINE SILVER along with the complete text of the Pledge of Allegiance: I pledge allegiance to the Flag of the United States of America, and to the Republic for which it stands, one Nation under God, indivisible, with liberty and justice for all.
Take advantage of free shipping for the entire month of June to add the SilverTowne-Minted Pledge of Allegiance .999 Silver Medallion to your collection.
Silver of the Month:
Based on customer feedback, the SilverTowne Silver of the Month allows you to add a variety of designs to your silver stacks with a different featured design offered with free shipping each month. As most investors in precious metals know, an ounce of silver is an ounce of silver – but many people like to have different designs in their silver stacks. After all, if you're going to hold physical silver, why not make it fun and interesting as well as practical? By offering free shipping on a different featured design each month, we hope you will be able to add exciting new designs to your silver collection!