2015 America's National Monuments - Vietnam Veterans Memorial
The third coin in an exciting new four-coin series highlighting some of the most well-known monuments in the United States is now available. The 2015 America's National Monument Series continues with a 1oz .999 fine silver coin featuring the Vietnam Veterans Memorial. The coin is struck in proof quality and is issued as legal tender under the authority of Niue, an island country in the South Pacific Ocean.
The Vietnam Veterans Memorial is an American national monument built to honor the men and women who served in the Vietnam War. Located near other monuments, just northeast of the Lincoln Memorial and near the Korean War Veterans Memorial, World War II Memorial, FDR Memorial, Martin Luther King, Jr. Memorial, Jefferson Memorial and Washington Monument, the Vietnam Veterans Memorial is one of the most somber places on the National Mall in Washington, D.C. – a place for reflection and remembrance.
A national design competition was held in 1980 from which the design of the memorial was chosen. The best-known structure of the memorial, The Vietnam Veterans Memorial Wall, was selected as the winning design and was created by Maya Lin, an undergraduate student at Yale University at the time. An American Flag and the sculpture "Three Servicemen" was added to the memorial in 1984. In 1993, the Vietnam Women's Memorial was added to honor the women of the United States who served in the war.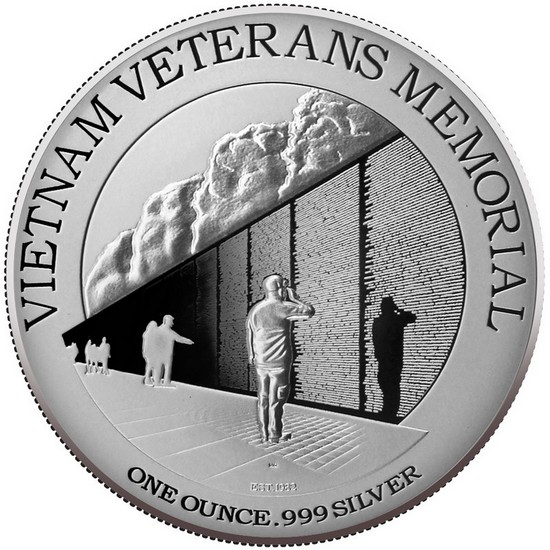 The focal point of the Vietnam Veterans Memorial is the Memorial Wall, which is made up of two 246 feet 9 inches long walls constructed of polished black granite. Each wall consists of 72 panels with the names of over 58,000 servicemen and women, who either died or are missing from their service during the Vietnam War, etched into the surface. The apex where the two walls meet is 10.1 feet high, with the wall tapering down in both directions to the lowest points of 8 inches high.
The coin's reverse depicts the Memorial Wall along with several visitors standing on the walkway reading the names etched into the wall. In the forefront is a U.S. veteran saluting the list of names on the wall. Another of the wall's well-known features is captured in the design, the reflection of the visitors on the wall's surface, which symbolizes the bringing of the past and present together. Inscribed above the main design area is VIETNAM VETERANS MEMORIAL. Along the bottom of the reverse is the coin's weight and fineness, ONE OUNCE .999 SILVER. The coin's obverse depicts an effigy of Her Majesty Queen Elizabeth II, with inscriptions ELIZABETH II, NIUE, 2 DOLLARS and 2015.
No more than 5,000 of the 2015 Vietnam Veterans Memorial 1oz Silver Proof Coins will be released - Get Yours Today!
Also available: Lincoln Memorial and Jefferson Memorial
Future release in the series: Washington Monument - Collect Them All