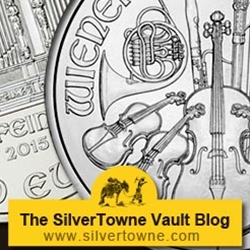 2015 Silver Philharmonic Coin
The Vienna Philharmonic coin (usually shortened to Philharmonic) was first introduced as a gold bullion coin in 1989. Minted by the Austrian Mint, the coins initially had a face value of 2,000 Austrian schillings, but the nominal face value changed to 100 euros in 2002 with the adoption of the euro currency standard. The Gold Philharmonic Coin is Europe's top bullion coin and one of the best-selling bullion coins in the world. To celebrate the 15th anniversary of the Philharmonic bullion coin in 2004, the Austrian Mint produced 15 massive versions of the gold coin. These specimens, known as Big Phil, are 1,000 ounces each and have a face value of 100,000 euros!
Austrian Silver Philharmonic coins feature the same obverse and reverse designs as the Gold Vienna Philharmonic coins. Both sides of the coins are unique and easily distinguishable from other bullion coins from around the world, but the reverse is perhaps the most recognizable design. The flip-side of the coin depicts a beautiful blend of musical instruments from the world-famous orchestra. These include a cello, four violins, a Vienna horn, a bassoon and a harp. They are arranged beneath the German name of the Vienna Philharmonic Orchestra, WIENER PHILHARMONIKER, and the inscription SILBER (silver in the German language).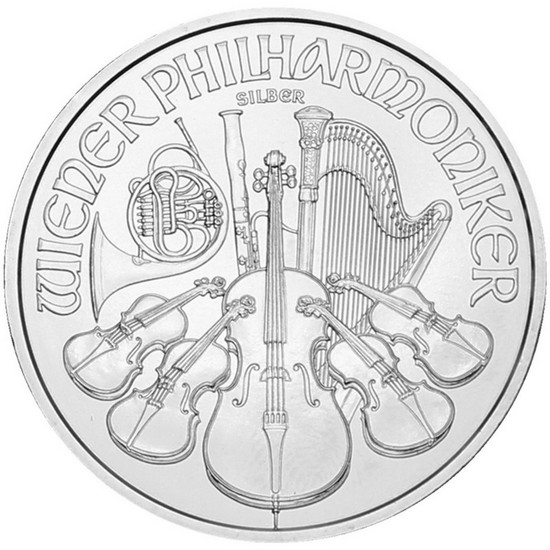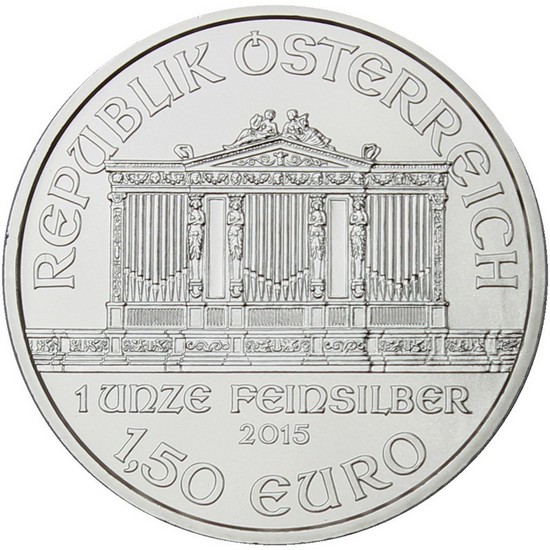 On the front, or obverse, of the Philharmonic coin is a grand representation of the great pipe organ in Vienna's Musikverein - the concert hall where the Vienna Philharmonic Orchestra plays its music. The Golden Hall (Goldener Saal) is considered one of the finest concert halls in the world due to its excellent acoustics. Inscriptions on the coin's obverse include REPUBLIK OSTERREICH (Republic of Austria), 1 UNZE FEINSILBER (1 ounce pure silver), 1,50 EURO (1.5 euros) and the year of issue.
Silver Philharmonic coins are often the highest minted silver bullion coins from Europe year after year. They are also one of the most well-known and best-selling silver coins around the world. If you don't own any Philharmonic coins, do yourself a favor and pick up some 2015 Austria Silver Philharmonic Coins – they are sure to be one of the highlights of your collection!