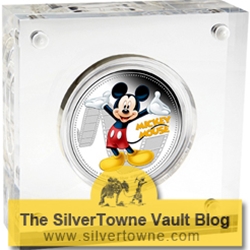 Disney Silver Coins
The New Zealand Mint and the Perth Mint have teamed up with The Walt Disney Company to issue officially licensed coins featuring some of Disney's most beloved classic characters. The first two releases, Steamboat Willie and a Donald Duck anniversary coin, were released earlier in 2014 and proved to be very popular with collectors. The latest offering is a six-coin series featuring brightly colored versions of six Disney favorites: Mickey Mouse, Minnie Mouse, Donald Duck, Daisy Duck, Goofy and Pluto.
Mickey Mouse
Mickey Mouse is one of the most famous cartoon characters in the world. His shoes and white gloves have become recognizable around the globe. Soon after Walt Disney first imagined the character on a train ride from New York to Los Angeles, Mickey officially debuted in the historic 1928 short film Steamboat Willie. Going on to appear in over 120 cartoons, Mickey became the first animated character to have a star on the Hollywood Walk of Fame. Mickey's famously shy, falsetto voice, was originally performed by Walt Disney himself. Mickey Mouse has played almost every role imaginable, from fireman, cowboy, and inventor, through to a plumber. His endearing personality has captured the imagination of cultures and generations around the world.
Minnie Mouse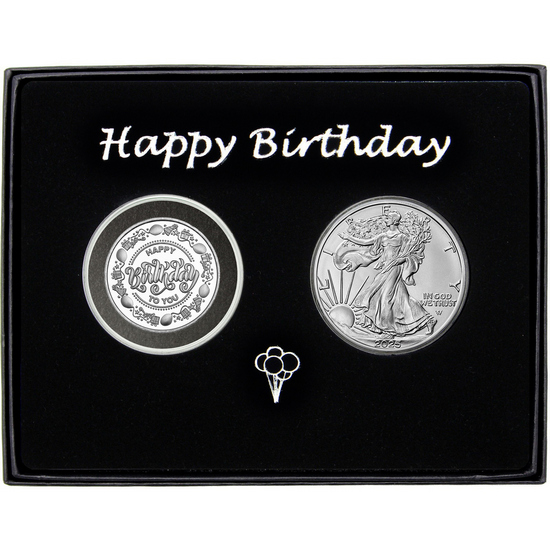 Minnie Mouse is the stylish, lifelong sweetheart of Mickey Mouse. Wearing her iconic red polka dot dress, Minnie's personality has delighted generations of fans across all cultures. Mickey's leading lady first appeared in the ground breaking 1928 short film Steamboat Willie. When a goat inconveniently eats her sheet music, Minnie resourcefully turns the goat's tail to generate music, demonstrating her spirited and lovable nature. Minnie has appeared in over 70 cartoons, many of which also feature Mickey Mouse, Pluto and her close friend Daisy Duck. She has two nieces, Millie and Melody. With a history spanning over 85 years, Minnie shines as a star in her own right.
Donald Duck
Donald Fauntleroy Duck is the most prolific of all the Disney characters in terms of his number of appearances, total screen time, and comic book career. An anthropomorphic white duck, Donald wears a sailor suit with a bow tie, and is known for his short temper. He is a loveable show-off, however, Donald's love of bragging often takes him over his head, usually to hilarious effect. 'Who? Me? Oh, no, I've got a bellyache', are eight words from The Wise Little Hen (1934) that introduced one of the most popular Disney cartoon characters. Donald's distinctive voice was created by Clarence Nash, who performed the role for 50 years. In 2004, Donald was recognized with a star on the Hollywood Walk of Fame.
Daisy Duck
Daisy Duck is a sophisticated cartoon character introduced by Disney in the 1940 short film Mr. Duck Steps Out. Like Donald Duck, Daisy is an anthropomorphic white duck, however, she is more feminine with long eyelashes and ruffled tail feathers. She is often seen wearing a blouse with puffed short sleeves, a matching hair bow, and heeled shoes. Daisy is the graceful, glamorous and loyal best friend of Minnie Mouse. She also shows a strong affinity towards Donald Duck and is very devoted to him. Daisy has appeared in a total of fourteen films, multiple television series, comic stories, and games.
Goofy
Goofy is a comical cartoon character created by Disney in the 1932 film Mickey's Revue. A tall, anthropomorphic dog, Goofy typically wears a turtle neck, waistcoat, white gloves, and a tall hat originally designed as a rumpled fedora. A close friend of Mickey Mouse, Goofy is one of Disney's most popular characters. Characterized as being extremely clumsy, he at times shows surprising intuition and knowledge, albeit in his own unique and eccentric way. Goofy's catchphrase is 'gawrsh!' his usual exclamation of surprise, along with a distinctive chuckle. Having featured in television shows and comic books, Goofy was given his own series of shorts during the 1940's, two of which were nominated for ACADEMY AWARDS®.
Pluto
Pluto, is an iconic cartoon character, who first appeared in Disney's 1930 release The Chain Gang. His nature and personality as a tracker dog in this early film was quite different to the friendly pup we know today. However, six months later this all changed as Pluto was presented as Mickey's pet, forging the famous friendship between these characters. Modeled on the English Pointer breed, Pluto is a mustard-colored, medium-sized dog with black ears. His cheerful and adventurous temperament has endeared him to many. As he does not speak, Pluto's performance relies on physical humor. This has made him a pioneering figure in character animation, by expressing personality through movement, facial expressions and vocalization. Cast in his own television series in 1937, Pluto went on to appear in 48 cartoons over the following decades. One of these, Lend a Paw, won an ACADEMY AWARD® in 1942.
In addition to the colorized characters on the reverse of each coin, the character's name is also displayed in color. Behind each character is a relief rendition of a film strip. At the bottom of each design is inscribed 1 OZ .999 FINE SILVER ©DISNEY. Issued as legal tender under the Pacific isle of Niue, each obverse of the coin features the Ian Rank-Broadley effigy of Her Majesty Queen Elizabeth II, along with inscriptions ELIZABETH II, NIUE, TWO DOLLARS and 2014. Under official license of Disney, each Mickey & Friends 1oz Silver Proof Coin is issued by New Zealand Mint and includes a numbered Certificate of Authenticity.
Each coin is surrounded by film-themed outer packaging illustrating the history of each character. All six outer package illustrations align to form one continuous background image when displayed side-by-side. Each individual coin is presented in a clear acrylic Perspex case, which allows for viewing of the coin from every angle – a true 360 degree presentation! Additionally, each of the six coin cases features a magnetic rail allowing the cases to be "connected" together to form a continuous display.
There is a limited mintage of 10,000 for each coin in this series. The 2014 Niue Silver Disney Characters Mickey Mouse and Friends Limited Edition 1oz Colorized PF in OGP 6pc Set is expected to sell out – so don't wait to get yours!