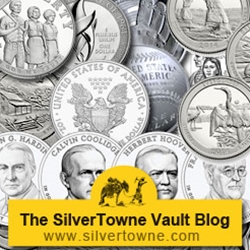 2014 US Mint Coin Release Schedule
The United States Mint has released its preliminary schedule of 2014 coin releases. As always, there are several items on the list that are sure to pique the interest of silver coin enthusiasts. The 2014 Civil Rights Act of 1964 Commemorative Silver Dollar and the brilliant uncirculated version of the 2014 Silver American Eagles have already been released by the mint. Set to release today is the 2014 ATB Quarters Silver Proof Set. Each of the five coins in this set contains 90% silver. The 2014 featured designs include Great Smoky Mountains National Park, Shenandoah National Park, Arches National Park, Great Sand Dunes National Park and Everglades National Park.
Other items of particular interest to silver coin collectors, which do not have a set release date as of right now, will be the ATB 5oz Silver Bullion Coins and the 2014 National Baseball Hall of Fame Commemorative Coins. The 2014 Silver American Eagle Proof is set to release in a few days.
Select releases from this year's schedule include:

01/02/2014 - 2014 Civil Rights Act of 1964 Silver Dollars
01/07/2014 - 2014 United States Mint America the Beautiful Quarters Proof Set™
01/21/2014 - 2014 United States Mint America the Beautiful Quarters Silver Proof Set™
01/23/2014 - 2014 American Eagle One Ounce Silver Proof Coin
01/27/2014 - 2014 America the Beautiful Quarters® Rolls and Bags – Great Smoky Mountains National Park (TN)
02/06/2014 - Presidential $1 Coin Rolls, Bags and Boxes – Warren Harding
02/13/2014 - 2014 Kennedy Half-Dollar Rolls and Bags
02/18/2014 - 2014 United States Mint Presidential $1 Coin Proof Set™
03/20/2014 - 2014 Native American $1 Coin Rolls, Bags and Boxes
03/25/2014 - 2014 United States Mint Proof Set®
03/31/2014 - 2014 America the Beautiful Quarters® Rolls and Bags – Shenandoah National Park (VA)
04/2014 - 2014 American Eagle Gold Coins
04/2014 - Presidential $1 Coin Rolls, Bags and Boxes – Calvin Coolidge
04/2014 - 2014 American Eagle One Ounce Silver Uncirculated Coin
04/2014 - 2014 America the Beautiful Quarters Uncirculated Coin Set™
04/2014 - 2014 United States Mint Silver Proof Set®
05/2014 - 2014 Presidential $1 Coin Uncirculated Set™
05/2014 - 2014 United States Mint Uncirculated Coin Set®
05/2014 - 2014 American Buffalo One Ounce Gold Proof Coin
05/2014 - 2014 American Eagle One Ounce Gold Uncirculated Coin
06/2014 - 2014 America the Beautiful Quarters® Rolls and Bags – Arches National Park (UT)
06/2014 - Presidential $1 Coin Rolls, Bags and Boxes – Herbert Hoover
07/2014 - 2014 American Eagle One Ounce Platinum Proof Coin
08/2014 - 2014 America the Beautiful Quarters® Rolls and Bags – Great Sand Dunes National Park (CO)
08/2014 - Presidential $1 Coin Rolls, Bags and Boxes – Franklin D. Roosevelt
09/2014 - 2014 Presidential $1 Four-Coin Sets (P and D)
11/2014 - 2014 America the Beautiful Quarters® Rolls and Bags – Everglades National Park (FL)
All dates are accurate as of the date of this post, but are subject to change by the US Mint. Also, according to the US Mint's website, "This list will be updated periodically as dates for products being released later in the year have yet to be set. All dates are subject to change by the United States Mint without prior notice. Products may be added to the schedule at any time."