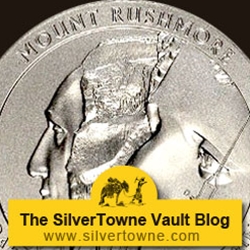 2013 Mount Rushmore 5 oz Silver Coin
The final 2013 Five Ounce Silver Uncirculated Coin release in the America the Beautiful series is now available at SilverTowne. This latest release features Mount Rushmore National Memorial, located in South Dakota.
Most people know that Mount Rushmore National Memorial is a sculpture carved into the side of a giant rock outcrop honoring four former Presidents of the United States of America. The sculptures of George Washington, Thomas Jefferson, Theodore Roosevelt and Abraham Lincoln were carved into the face of Mount Rushmore near Keystone, South Dakota by Danish-American Gutzon Borglum and his son, Lincoln Borglum, with the help of around 400 different workers. The site, which stands 5,725 feet high, was selected due to its smooth granite, which minimizes erosion. The process of carving the work of art took from October 1927 to October 1941, 14 years! And although the work was dangerous, no lives were lost during the sculpting process.
The concept of carving the likenesses of famous people into the Black Hills region is credited to Doane Robinson, a South Dakota historian who wanted to promote tourism in the area. It was decided to feature the presidents to give the sculpture a national focus. The initial concept actually called for the presidents to be displayed from head to waist, but lack of funding ended the project before it was completely finished. This fact didn't stop the sculpture from becoming a popular tourist attraction, with nearly three million people visiting each year to marvel at the massive memorial.
The 5oz silver bullion Mount Rushmore coin is the 20th issued in the U.S. Mint's America the Beautiful series. The reverse of this coin features a unique view of the famous Mount Rushmore, showing a side profile of Washington and Jefferson. The design depicts the carving as a work in progress, with scaffolding in place and working artists creating this massive work of art. Inscriptions surrounding the image read MOUNT RUSHMORE, SOUTH DAKOTA, 2013 and E PLURBIS UNUM. This coin's precise and detailed design is exactly 3 inches in diameter, weighs 5 troy ounces and contains .999 fine silver. The obverse design is the same as that of the ATB quarters, showing the image of George Washington with the same quarter dollar inscriptions. Like all 5oz ATB collector versions before it, this release is produced with an uncirculated finish at the Philadelphia US Mint and therefore displays a "P" mint mark. Furthermore, the edge of each coin is incused with the coin's fineness and weight.
Add 2013 P Mount Rushmore 5oz Silver Coins To Your Collection.