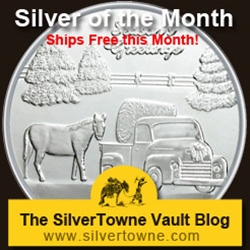 2013 November Silver of the Month
The November 2013 SilverTowne Silver of the Month celebrates an American Fall tradition – the harvest! Heading into Autumn and on through November, farmers across a vast portion of this great nation begin to bring in the crops they've been nurturing all season. The 2013 Season's Greetings Farm 1oz .999 Silver Medallion also brings a warm greeting, with Season's Greetings inscribed on the obverse, perfect for the entire Thanksgiving through Christmas holiday season.
The obverse of this silver medallion also features an older-style pick-up truck hauling a large roll of hay, with a trusty horse standing by, and the year 2013 inscribed at the bottom. In the background are three snow-covered evergreens in front of a split-rail fence, completing the classic farm scene. The reverse of the medallion includes inscriptions Best Wishes for Peace and Joy This Holiday Season, 2013 and ONE TROY OUNCE .999 FINE SILVER.
Add the 2013 Season's Greetings Farm 1oz .999 Silver Medallion to your collection and take advantage of free shipping for the entire month of November.
An enameled version of this custom-minted design is also available, as are bronze and bronze enameled pieces. Optional engraving is available on the reverse of all of the silver and bronze varieties of the 2013 Season's Greetings Farm designs, making them customizable and perfect for gift-giving.
Whatever designs you choose, just keep stacking the silver!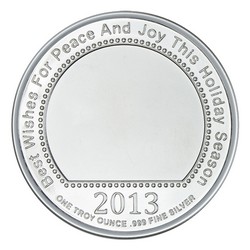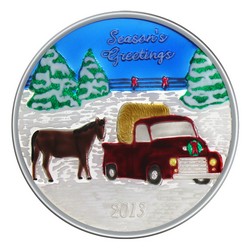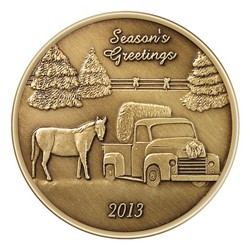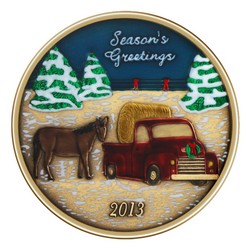 Silver of the Month:
Based on customer feedback, the SilverTowne Silver of the Month allows you to add a variety of designs to your silver stacks with a different featured design offered with free shipping each month. As most investors in precious metals know, an ounce of silver is an ounce of silver – but many people like to have different designs in their silver stacks. After all, if you're going to hold physical silver, why not make it fun and interesting as well as practical? By offering free shipping on a different featured design each month, we hope you will be able to add exciting new designs to your silver collection!