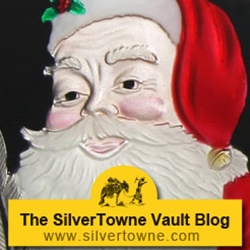 SilverTowne Christmas 2013 Bullion
Some of the most popular custom minted pieces that the SilverTowne Mint produces each year are their beautiful Christmas medallions and bars. The rounds and ingots come if a wide-variety of designs, with different selections featured every year. If you've been anxiously waiting to see this year's designs, the wait is finally over – the new 2013 Christmas pieces are now available!
SilverTowne offers a design for everyone, whether you prefer a plain medallion or a dazzling hand-painted enameled variety. You can choose from traditional holiday symbols and imagery such as Santa Claus, reindeer, sleds, snowmen, snowy scenery, and the popular SilverTowne Exclusive Garfield designs.
All of the beautiful medallions and bars come in both silver and bronze, and have the ability to be engraved for that special someone. A plastic capsule is included with all of the Christmas pieces – but new this year is the ability to upgrade to a variety of packaging options, including ornament capsules that you can attach a hook or ribbon to for hanging, red storage pouches, green or red stocking holders that can be hung on a tree, three different greeting box options, a velvet gift box with various design options, or even an elegant glass dome to display your favorite piece in. See the individual product pages for pictures and pricing information for each packaging option.
Not only do these pieces make great gifts, ornaments, decorations or keepsakes, they also have an intrinsic value due to their composition, which may go up over time based on the precious metals market. Whether you purchase them as a gift for someone special or as a gift for yourself, 2013 Christmas Medallions & Bars from SilverTowne will put a smile on anyone's face.