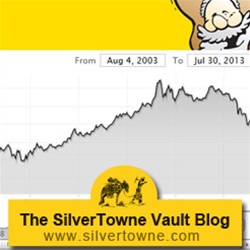 Spot Market Tools
When making a big purchase you want to be informed. The same goes for buying precious metals. At www.silvertowne.com we offer a service free of charge to our customers so they are able to make informed decisions when buying precious metals. We have offered this service for some time now, but we have recently revamped the SilverTowne Market Details and Historical Market Data page to make it even more user-friendly – and have added even more content. You can access this page via the link at the top of every page just to the right of the precious metals market spot pricing updates.
Visit the SilverTowne Market Details and Historical Market Data page for live interactive feeds of the market prices for gold, silver, platinum and palladium - as well as historical data for those precious metals. The live feed provides real-time spot prices for the four major precious metals. One of the most convenient features of the historical market data is that it allows the user to examine the pricing and trending history of precious metals by zooming into a detailed month, week and even day from previous years.
To enhance the data view, you can customize the date range by typing the date or dates into the box at the top right of the metal you want information on, or by rolling over the line graph to choose the date. Another way to look at a specific time frame is by shrinking or expanding the graph – which is done on the lower area of the graph by dragging the brackets in and out, which either increases or decreases the graph to the dates you select. By customizing the graph to your preference, the price of the metal for that time frame can be viewed and analyzed.
Also included on this page are articles linking to the latest updates and commentary about the precious metals market. On the right side of the page you will find summaries for select Precious Metals News along with links you can click through to read the full articles.
So be sure to visit www.silvertowne.com often to check out the details of the Current Precious Metals Market, analyze Historical Market Data, keep informed of the latest Market News, and to take advantage of the Most Competitive Precious Metals Pricing available!