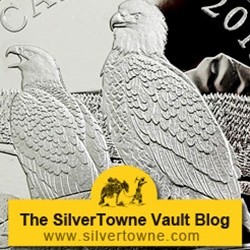 Canadian Bald Eagle Series - Second Release
The second coin in the Royal Canadian Mint's exciting four-coin series featuring the power and beauty of the bald eagle is now available. SilverTowne is proud to be the Exclusive Dealer in the United States for this 2013 Canadian Silver Coin Series featuring Bald Eagles! The series highlights this majestic Canadian bird, which is also the national bird of the United States of America, from four different perspectives. Now available for shipping is the second coin in The Bald Eagle Series, Lifelong Mates, featuring a pair of gorgeous bald eagles.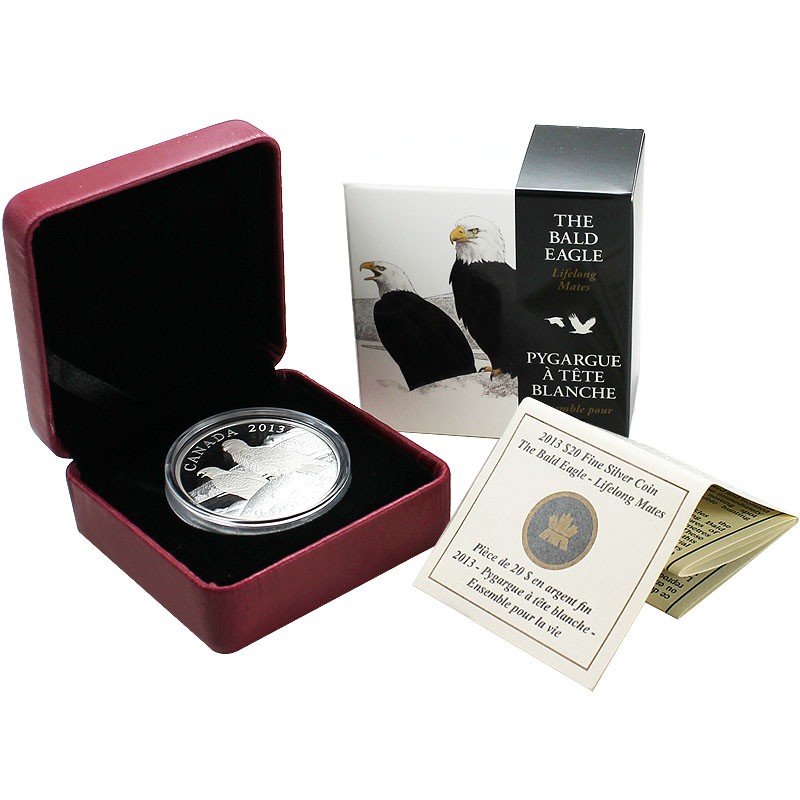 The 2013 Canada Silver Bald Eagle Lifelong Mates 1 Ounce Proof coin is certified to be 99.99% pure silver with a diameter of 38 millimeters and a metal weight of 31.39 grams. The reverse image by Canadian artist Claudio D'Angelo features a pair of bald eagles perched majestically on a rocky shoreline, surveying their territory. The detailed description by the Royal Canadian Mint states "One of the pair sits at the centre of the image, gazing sternly at the viewer with its left eye, its face and seated body viewed in three-quarter profile. Slightly behind this eagle and to the left sits its mate, its back turned to the viewer and its open-mouthed profile viewed from the left side. Behind them, a large river flows across the width of the central ground, with a long finger of land jutting out into the water from the right side of the image. In the far background, a dense coniferous forest rises in the foothills of distant mountains, whose jagged white peaks are visible on the horizon."
In addition to the eagle design, the reverse of the coin also includes inscriptions CANADA 2013 and 20 DOLLARS. The obverse of the coin features the effigy of Her Majesty Queen Elizabeth II by Susanna Blunt, along with inscriptions ELIZABETH II and D.G. REGINA. This coin also features unique edge lettering, with FINE SILVER 1 OZ ARGENT PUR 1 OZ engraved around the edge of the coin.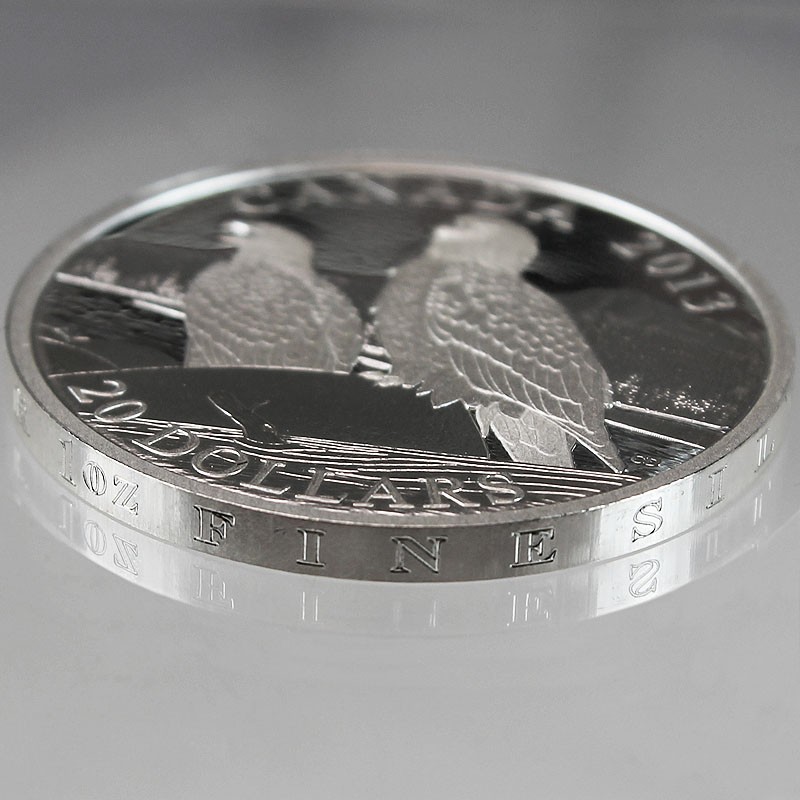 A certificate of authenticity accompanies the coin and attests that the 2013 $20 fine silver coin is proof quality and is authorized by the Government of Canada. Also included is an elegant maroon case enclosed inside a gorgeous box. The silver proof coin was expertly struck by the Royal Canadian Mint, and has a limited mintage of only 7,500 worldwide.
Lifelong Mates is the second design in the Bald Eagle series and SilverTowne is the only direct-from-the-mint dealer in the U.S. where you can buy this new proof-quality pure silver coin. Add this gorgeous coin to your collection before it's too late!

Coming Soon: Watch for 2 more silver releases, as well as a 1oz Gold version of one of the eagle designs, in the American Bald Eagle Series to be released later this year.