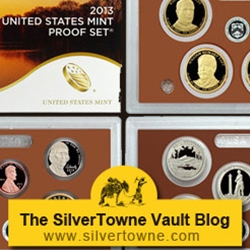 2013 US Proof Set
The United States Mint recently released this year's version of their popular annual clad Proof Set. The 2013 US Mint Proof Set includes 14 coins contained within three separate protective cases. The cases come in the original government packaging cardboard box along with a certificate of authenticity. An "S" mint mark is inscribed on each of the 14 collectible coins, indicating their origination at the US Mint facility in San Francisco.
The coins included in this proof set are: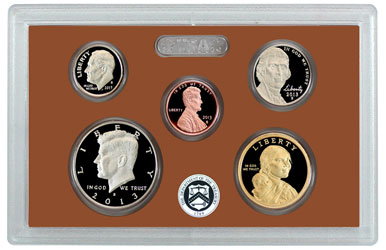 2013-dated "Commonly-Circulated" Proof Coins
- 2013 S Native American Dollar "Treaty With the Delawares 1778"
- 2013 S Kennedy Half-Dollar
- 2013 S Roosevelt Dime
- 2013 S Jefferson Nickel
- 2013 S Lincoln Cent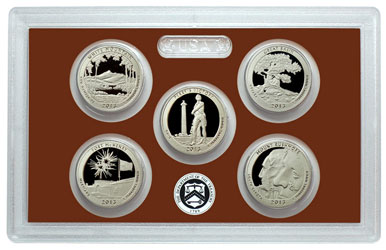 2013 America the Beautiful Proof Quarters
- White Mountain National Forest Quarter
- Perry's Victory and International Peace Memorial Quarter
- Great Basin National Park Quarter
- Fort McHenry National Monument and Historic Shrine Quarter
- Mount Rushmore National Memorial Quarter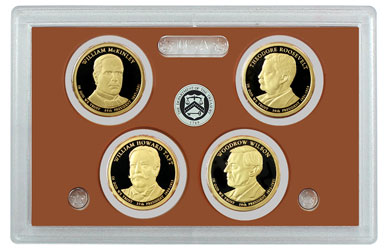 2013 Presidential Dollar Proofs
- William McKinley Presidential Dollar
- Theodore Roosevelt Presidential Dollar
- William Howard Taft Presidential Dollar
- Woodrow Wilson Presidential Dollar
United State Proof coins are highly-detailed and feature a brilliant mirror-like finish. The raised design parts of the coins contrast with the mirrored background to give them a beautiful cameo style effect. The US Mint achieves the stunning beauty of these proof coins through their unique manufacturing process, specially treated blanks and polished dies. Order your 2013 US Mint Proof Set from SilverTowne and add these gorgeous coins to your collection today!