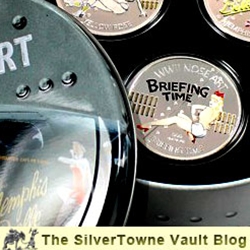 WWII Nose Art Commemorative Coins
Nose Art is the term given to the paintings and other artwork that military pilots have long decorated the fuselage of their aircraft with, usually located on or near the nose cone. The practice began as a way for pilots to recognize other friendly aircraft, but somewhat transformed into a way to express ones individuality. Nose Art was always personal to the pilots of the aircraft and was not officially approved by the military. In fact, the authorities often frowned upon the use of 'aircraft graffiti', but never really enforced any sanctions against it. Over time, these colorful decorations have been seen as inspiring, emotive, aggressive, humorous, cynical and even daring.
Released earlier in 2012, The New Zealand Mint celebrates Nose Art from World War II on three 1oz .999 silver coins. The designs featured in brilliant color on the reverse of the three coins are famous WWII Nose Art images: Memphis Belle, Yellow Rose and Briefing Time. Each design is enhanced with background renderings of an airplane fuselage, complete with rivets! The obverse of all three silver coins features an effigy of Her Majesty Queen Elizabeth II. The coins were released as a 3-piece set housed inside a tin designed to replicate an aircraft panel. Completing the set is a certificate of authenticity which includes a short story of each featured Nose Art design. The three coins are also available individually, certified by NGC.
There were only 3,000 sets of the WWII Nose Art coins produced by The New Zealand Mint, so these coins make great collector's items! Don't miss your chance to add these unique silver coins to your collection.