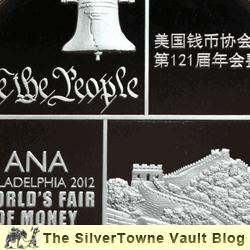 2012 Silver Panda Medal
The ANA World's Fair of Money is the largest coin show in the United States, and perhaps in the world. One of the traditions surrounding larger coin shows such as this is for various mints to produce special coins and/or medals to commemorate the show. One such medal being released for the 2012 ANA World's Fair of Money is the Silver Panda Medal – issued by the China Great Wall Coins Investments Limited and minted by Shenzehn Guobao Mint. The medals are being sold at the show, which wraps up August 11th in Philadelphia, as well as through select distributors.
Chinese mints have not issued a medal for an ANA show since 1989, so these items are expected to be quite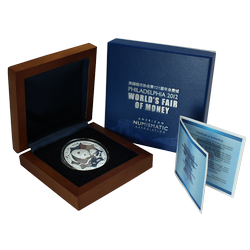 popular with collectors. Panda medals that were produced for ANA shows in the past have maintained their popularity and increased in value. These past releases include conventions in New York (1986), Atlanta (1987), Cincinnati (1988) and Pittsburgh (1989). The 2012 Silver Panda Medals are available in 1oz and 5oz weights, are proof quality and come in an elegant wooden storage box.
Another element factoring into the value and popularity of these 2012 silver medals is the low mintage quantities. The 1oz version has a mintage of 10,000 medals and the 5oz a mintage of just 2,500. (There is also a 5oz gold medal being produced, but that version has an extremely low mintage of just 99 medals, making it even harder to acquire.)
The design of the silver medals is quite unique as well, with the reverse featuring an icon from both the United States of America (The Liberty Bell) and China (The Great Wall of China). The Liberty Bell is easily associated with the city of Philadelphia, where the 2012 World's Fair of Money is being held, and underneath its image is inscribed "We The People". Also on the reverse is the city, year and title of the show, written in both Chinese and English. The obverse of the silver medals features 2 pandas, 1 adult and 1 baby, along with the weight (1oz or 5oz), content and fineness (.999 fine silver).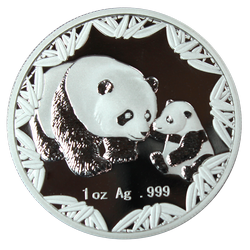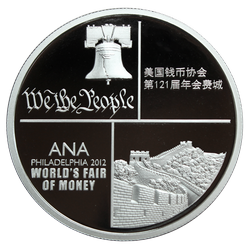 A limited quantity of both the 1oz and 5oz Silver Panda Medals are now available from SilverTowne, with an expected ship date around August 16th, 2012. Even if you were unable to attend the 2012 World's Fair of Money in Philadelphia, you can commemorate this annual ANA convention by adding these medals to your collection. Order your 1oz Silver Panda Medal or 5oz Silver Panda Medal now – before they sell out!