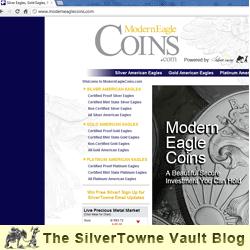 Modern Eagles Online
Over the past few decades, Modern American Eagle Coins from the U.S. Mint have been some of the most popular bullion coins in the United States and around the world. That's why all of us at SilverTowne are excited to launch a brand new eCommerce site dedicated to Modern Eagle Coins - featuring Silver American Eagles, Gold American Eagles and Platinum American Eagles. The new website can be found at www.ModernEagleCoins.com.
This new dedicated website makes it easier than ever to shop for Modern Eagles, with the same large inventory and great prices you've come to expect from SilverTowne. All of the Modern Eagle Coins offered at www.silvertowne.com will also be available at www.ModernEagleCoins.com – including Certified and Non-Certified Silver American Eagles, Certified and Non-Certified Gold American Eagles, Certified Platinum American Eagles, and even a selection of supplies that make collecting Modern Eagle Coins fun and easy. What you won't find at the new site is anything non-related to Eagle Coins. So if all that you're shopping for is Modern Eagle Coins, then this is the site for you! You can even use your existing SilverTowne account to login and shop at www.ModernEagleCoins.com.
Also featured at the site are several new articles designed to help you learn more about Modern Eagles. Visit the Modern Eagle Coins Learning Center to read articles like Benefits of Investing In or Collecting Modern Eagle Coins, The Manufacturing Process of Modern Eagles, and Modern Eagle Coin Designs and Specifications. We hope you find these informative articles a helpful resource.
Whether you are a coin collector, an investor in precious metals, or both, Modern Eagle Coins are one of the best options when you are looking to purchase silver, gold or platinum bullion coins. Now researching and shopping for these coins is easier than ever with the all new www.ModernEagleCoins.com!