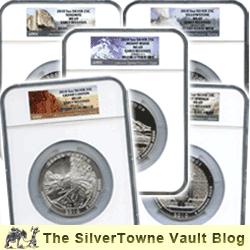 America the Beautiful Coin Set
2010 was the inaugural year for the 12-year quarter dollar series the U.S. Mint has dubbed America the Beautiful Quarters™. These commemoratives were authorized by America's Beautiful National Parks Quarter Dollar Coin Act of 2008, which also instructs the Mint to strike companion .999 fine silver coins that weigh 5-ounces and have an enormous 3-inch diameter.
The 3-inch "hockey-puck-sized" coins are very impressive, with each coin sporting incused edge lettering featuring the coin's fineness (.999 fine silver) and weight (5.0 troy ounces). Now you can own all five 2010 releases in this series by ordering a convenient 5-piece set. All 5 coins in this set are slabbed and graded MS69 Early Release by NGC. The slabbed cases are very sturdy and are slightly larger than a compact disc case.
This set includes coins depicting breathtaking designs of Hot Springs National Park (Arkansas), Yellowstone National Park (Wyoming), Yosemite National Park (California), Grand Canyon National Park (Arizona) and Mount Hood National Forest (Oregon). Whether an investor in silver bullion or a casual collector, you won't be disappointed with this set!
Order Yours Today >>