Enhanced Uncirculated Silver American Eagles – New SAE Finish from the US Mint!
The much-anticipated 2-coin West Point Silver American Eagle Set from the United States Mint has arrived! There has been a lot of buzz around this set mainly because it contains a brand new finish for a silver eagle – an "enhanced uncirculated" finish. The allure of this new finish is the heavy frosted treatment given to select highlights of the design on both sides of the coin. Also included in the set is another popular version of the Silver American Eagle coins – one with a reverse proof finish.
The Enhanced Uncirculated Silver Eagle features enhancements that are unusual for an uncirculated coin. On the obverse, the mountains, the red stripes and blue parts of the United States flag, the year, and Liberty's sandals have an uncirculated finish. The other elements and lettering on the obverse have a heavy frosted finish. On the reverse of the coin, the ribbon in the eagle's beak, the arrows and olive branch, the alternating stripes in the shield and the border around the shield have an uncirculated finish. The other elements and lettering on the reverse have a heavy frosted finish. These heavy frosted areas contrast beautifully with the light frosted finish of the field portions of the coin to add sharp definition to the designs - something never before seen on a Silver American Eagle!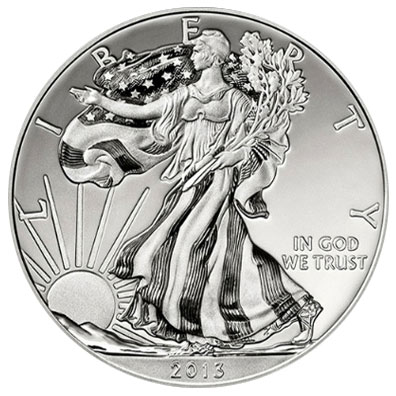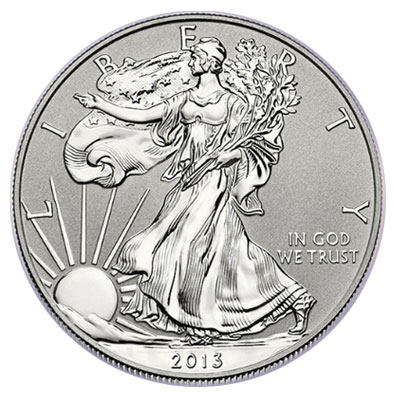 The Reverse Proof Silver Eagle finish reverses the mirror-like background of a traditional proof silver eagle coin, and applies it to the raised design elements of the coin instead. This reversal of finishes provides for a magnificent contrast on these coins. The reverse proof process is applied to both the obverse and the reverse of the coin.
The new Enhanced Uncirculated Silver Eagle is only available in the 2013 W Silver American Eagle West Point 2pc Silver Sets – so make sure you get yours before they are gone! Available non-certified in OGP, or certified by third-party grading companies NGC or PCGS. The certified sets from SilverTowne will also include the OGP – a custom-designed, highly polished, blue lacquered hardwood presentation case – and a Certificate of Authenticity.
sku:
Why buy collectible coins and bullion from SilverTowne?
From humble beginnings in 1949 as a small coin shop in rural Indiana, SilverTowne has become one of the largest and most trusted numismatics dealers in the United States. Collecting physical silver, gold and other precious metals is a great way to diversify your holdings. In addition to a large selection of modern coins from national mints around the world, we offer many custom minted bars and medallions from our own mint. Many of these bullion choices are exclusive to SilverTowne and our network of resellers. Buying silver produced by the SilverTowne Mint directly from SilverTowne is a convenient and easy way to collect all of your favorite designs and keep your bullion stacks growing!